In the first ODI against Sri Lanka in Guwahati yesterday, Sri Lanka captain Shanaka was on 98 when Mohammed Shami, who bowled the last over, was run out for going beyond the crease. Rohit Sharma did brilliantly to prevent this from becoming a major controversy, dismissing the appeal for the out. Due to this, Shanaka again scored a century.
Sri Lanka needed 83 runs to win in the last 3 balls. Rohit Sharma decided not to end Shanaka's brilliant innings in such an ugly way when he was never going to win and Shanaka scored a century to get rid of his out corral.
When Rohit Sharma said in this regard, "I don't know anything about Shami doing this. Shanaka bowled brilliantly. He deserves a century for the way he played. He should not be dismissed in this manner. He was on 98 runs. We can only get him out the way we planned to get him down, but we should not get him out by manguding. We don't even think about making out like this. Once again, 'hots off' to Shanaka, he played really well" and made the situation cool.
It is indeed a generous sporting spirit equivalent to what Dhoni once recalled England's Ian Bell. Well, while Rohit Sharma has sown such generosity, when Sehwag was on 99 in an ODI in 2010, when India needed one run to win, Sri Lankan off-spinner Suraj Ranthiv prevented Sehwag from scoring a century by deliberately bowling an ugly no-ball. . The tossed ball went for a six. So morally it should be taken as sevak cent. But, as per the rules of cricket, a no-ball was bowled and the game ended immediately. India won, Sehwag was stuck on 99 runs.
Sri Lankan player Tillakaratne Dilshan advised Suraj Randhi to do so. It is another matter that Sehwag is not one to worry about hundreds. But Sri Lanka's man-of-the-match at the time, captain Sangakkara, vowed action when he was denied a well-deserved century that day by an ugly no-ball. Sooraj Ranthiv was accordingly banned for one match and Dilshan was fined his entire salary for the match for asking Ranthiv to bowl a no-ball.
It is usually only in lower-level cricket that such defilements occur. In Test matches it is different to apply pressure by using tension to close the field strategy when a batsman scores a hundred. It is against the ethos of the game of cricket to mancut or cheat a batsman when he is nearing a hundred when it is not necessary, and that too can never be won. But, what Sooraj did to Sehwag that day, an even cheaper act, is what happens when a player scores a century? What could be more impure than to stop it by throwing a no-ball? Shami did something similar yesterday! What happens if Shanaka scores a hundred?
But captains should stand up and save the honor of cricket when some players act like this and destroy the honor of the game of cricket. This is what Sangakkara did then and Rohit Sharma yesterday.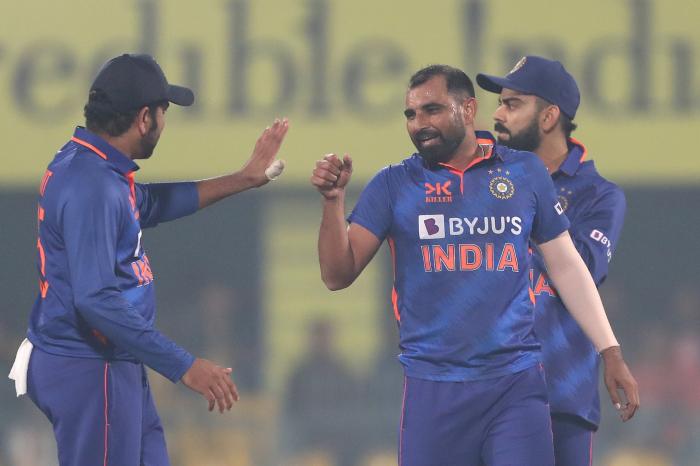 As for India's Mohammed Shami, he is in dire straits. Netizens lashed out at Shami after conceding 20 runs in one over against Pakistan in the T20 World Cup in UAE. Allegations were leveled that he deliberately favored Pakistan. Virat Kohli reacted strongly to it and criticized the netizens. There are those who say that this is why he lost the captaincy. It is also not known whether Shami is now trying to win back his lost fans with this kind of mancutt dismissal. Or whether Sehwag remembers what Suraj Ranthiv did and also does not know. Whatever the case may be, there is no doubt that Rohit Sharma's act was in the spirit of sportsmanship at its best.
Sooraj Ranthiv bowled a no-ball to Sehwag