Last Updated : 19 Sep, 2022 08:52 PM
Published : 19 Sep 2022 08:52 PM
Last Updated : 19 Sep 2022 08:52 PM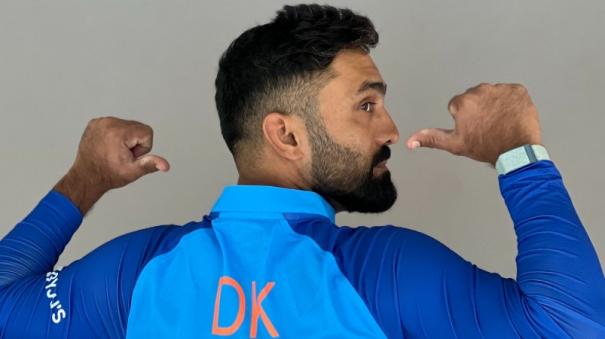 Mohali: Wicket keeper batsman Dinesh Karthik shared a photo of himself wearing the new jersey of the Indian cricket team on his social media page. Fans are very busy liking, commenting and sharing it.
37-year-old Dinesh Karthik is back in the Indian team after a long break. This time he was regularly featured in the Indian team for various T20 series. As a result, he has also been included in the Indian team for the T20 World Cup series which will start next month.
In this case, the new light blue colored jersey of the Indian team was released yesterday. After that, all the Indian players in the series between India and Australia took a picture wearing that jersey. Dinesh Karthik also took a photo wearing the new jersey. That's what he shared now. It has heaps of likes.
"Do you have a problem with me coming forward? I will wear a coat suit. I will step on my feet, sir. Style. A fan opined that this photo of Dinesh Karthik is reminiscent of the Kabali verse that says Ketha".
I'm Blue
New threads. Fresh energy pic.twitter.com/6kFtsdBYTU
Don't miss out!