Coach of the Indian team Rahul Dravid It was the confidence he had in me that made me bat better and the team win. I did as he said, the Indian team player that we won Deepak Sahar Praised.
By 3 wickets in the 2nd ODI against Sri Lanka in Colombo yesterday Indian team wins Received.
Batting first, Sri Lanka scored 275 for 9 in 50 overs. With 5 balls to spare, India lost 7 wickets for 277 runs and won by 3 wickets.
India won the three-match ODI series 2-0. The Indian team has a history of not losing an ODI on Sri Lankan soil since 2012.
India have won the ODI series against Sri Lanka for the ninth time in a row since 2007. The Indian team has a history of winning 93 ODIs against Sri Lanka and having the most wins against a team.
Deepak Sahar, who was the 8th batsman, and Bhuvneshwar Kumar, the 9th batsman, were the main contributors to India's success.
Deepak Sahar won the man of the match award for his unbeaten 69 off 82 balls. Played to accompany him Bhuvaneshwar Kumar He was unbeaten on 19 runs.
Regarding this success Deepak Sahar As stated in the interview:
I thought there would be no better prize for the country than winning this competition. When I banged, the coach Rahul Dravid Sir told me to play till the last ball, do not miss the game and bat patiently. I followed his advice and we won.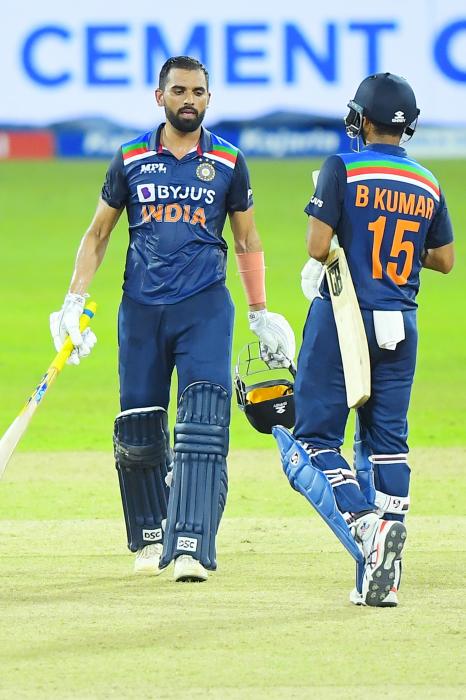 I have played some matches for India A under Dravid's coaching. It was Dravid's confidence in my batting that made me bat better.
Dravid told me that it would be better if he batted as the 7th player. Dravid had faith in me. I will not have to bat in the next matches and the hope has come that we will win as soon as I reach 50 runs. I looked at each ball and pulled.
We also excelled in bowling and blocked within 270 runs. This is a good score at this ground. I won the game thinking that there would be no better prize than winning the team. "
Thus said Sahar.
.