Last Updated: 01 May, 2022 06:52 AM
Published: 01 May 2022 06:52 AM
Last Updated: 01 May 2022 06:52 AM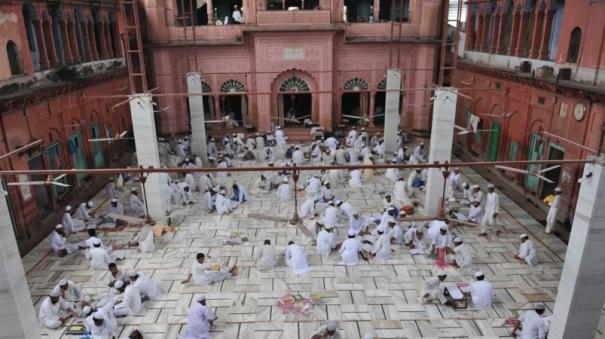 New Delhi: The Darul Uloom Madrasa in Uttar Pradesh has announced that only those whose addresses have been verified by the Indian Intelligence Service (IP) will be allowed by the police.
The world famous Darul Uloom Madrasa is located in Deoband in Saharanpur district of UP. The students of this very old madrasa are highly respected among the Muslims of the world.
The State Anti-Terrorist Squad (ADS) yesterday arrested Tala Farooq, a Muslim student studying in the madrassa, on suspicion. He had links with Jainulabudin, who was arrested on March 14 in Bhopal, Madhya Pradesh along with five others.
In this regard, the ADS officers conducted a serious investigation. At that time, the Aadhar card and Bancard numbers given as proof of study at Farooq Madrasa in Bangladesh were found to be fake. There were video recordings of extremist organizations in Theopant's Darul Uloom Madrasa and in Thala Baruk's cell phone. These include the Ansarullah Bangla Team, Al Qaeda and the Tehreek-e-Taliban Pakistan. All of these have been sent by the ADS for forensic examination.
Following this, the administration has introduced some restrictions on the admission of students to the Darul Uloom Madrasa. Accordingly, students who wish to study in a madrassa from the coming academic year will be required to attach to the application a certificate certifying the documents related to their address by the intelligence and state police. The announcement was made by Maulana Abdul Khalik Madrasi, Assistant Vice Chancellor of Darul Uloom Madrasa.
As such, it is not the first time Bangladeshis have been arrested in Theophany with fake identity cards. Earlier, on March 21, a father and son from Bangladesh were arrested in Saharanpur. Prior to that 2 brothers and 5 Bangladeshis were arrested in February 2019. Many of them are in jail. This is due to the fact that the Bengali language spoken in West Bengal is also spoken by a significant number of people in Bangladesh.
.