A Saudi photojournalist monitored the beauty of the beautiful winter sunset, which embraces the red twilight, from an elevation of 2,000 square meters above sea level, at the tops of the famous Hada Mountain in Taif, western Saudi Arabia.
Photographer Ali Al-Shadawi transformed these scenes into charming creative paintings, and painted scenes captivating the hearts in moments of the sun's disappearance, he says during his talk to Al-Arabiya.net: The pictures I took from the Al-Hada Mountains in Taif, or the so-called Al-Kur-Al-Hada road, I trusted in moments The beautiful sunset and red twilight lines appeared when the sun bid farewell to the horizon, in the midst of a winter atmosphere that mixed between low temperatures and cold breezes.
The "Al-Kur-Al-Hada" road is considered one of the Saudi tourist areas, which are cold in summer and winter, and witness rainfall throughout the year.
For his part, a member of the Logistics Committee in the Saudi Chambers, who specializes in the transport sector, Maher Al-Ruwaizan, told Al Arabiya.net: "The Kara road, which was implemented by Saudi Arabia in stages, is one of the twisting highways between high mountains. It was implemented in a great technical way, and the length of the Kara road is 87." km, and it is divided into stages, from Mecca to Arafat 21 km, from Arafat to Kara 23 km, and from Kara to Hada 23 km, which is the most difficult and most dangerous stage, which winds through the mountains, and 20 km from Hada to Taif.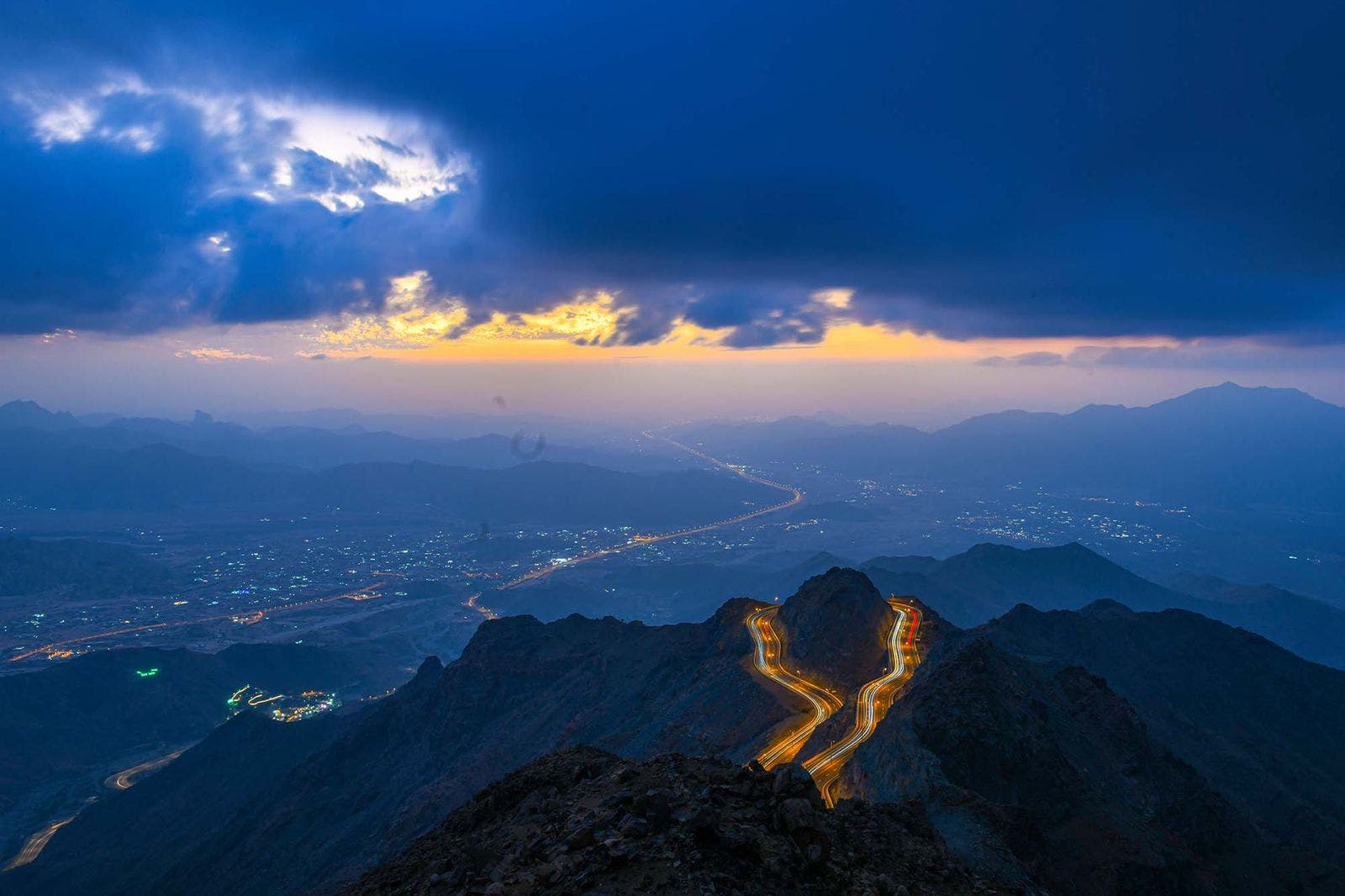 Al-Kur-Al-Hada road
He added: "Al-Kur – Al-Hada road is considered one of the most famous twisting roads, famous for touching the fog atmosphere between the mountains and its spiral bends," pointing out that the road records its name in history to 900 years ago, when it was spotted with stones and was used by passers-by to reach Mecca by camel, and today. The road itself became teeming with vehicles throughout the day, embracing the accumulated clouds and the flashes of lightning that made it a beautiful sight during the rain and during the winter weather.