Last Updated : 31 Jul, 2022 06:22 AM
Published : 31 Jul 2022 06:22 AM
Last Updated : 31 Jul 2022 06:22 AM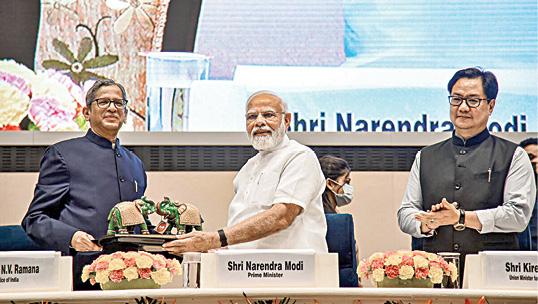 New Delhi: Prime Minister Narendra Modi has insisted on ensuring justice for all.
There are 676 District Legal Services Commissions functioning across the country. These commissions are chaired by the respective District Judges.
The first national level meeting of the District Legal Services Commission was held in Delhi yesterday. Prime Minister Narendra Modi delivered the inaugural address. He said:
We are celebrating the 75th year of independence of the country. We have to take our country to new heights in the next 25 years. In this period, it is essential to improve the livelihood of the people, create an environment suitable for doing business, and ensure justice for all.
People have a lot of faith in the judiciary. To keep their faith. Steps should be taken to ensure easy access to the courts for people from all walks of life. For this, in the last 8 years, the central government has taken various measures to improve the infrastructure of the justice sector.
It is necessary to make full use of information technology in the judicial sector. Virtual courts are being launched across the country under the e-Courts programme. 24-hour courts have started functioning for offenses like traffic violations. Video facility is being expanded in courts for the convenience of people.
So far more than one crore cases have been heard in District Courts and about 60 lakh cases in High Courts and Supreme Court through video. Especially during the Corona pandemic, all the courts held hearings through video and gave justice to the people. The justice system is changing to fit the 21st century.
People from all walks of life should be aware of legal provisions and legal remedies. This requires the use of technology. As part of this, steps have been taken to make legal services available to common people through cell phones and apps.
We need to focus on the humanitarian issue of remand prisoners in various prisons of the country. District Legal Services Commissions should take up the responsibility of providing legal aid to them. Steps should be taken for speedy release of undertrials. I request the district judges to pay attention to their release. Prime Minister Narendra Modi spoke thus.