It will be extremely busy at Schiphol again on Sunday. Long queues of passengers can be found far outside the airport. Anyone hoping to avoid the crowds at Schiphol will be disappointed. Because the regional airport is also very busy.
"It is a very busy Sunday at Schiphol", a spokesperson confirms. And that results in long queues, as is apparent from the reactions of injured travelers on social media. Post after post shows that many hundreds of travelers are waiting. There are long lines outside. Some people complain that they queued up for over an hour and were then led out again. It is also busy at the check-in counters.
For example, one of the travelers via Twitter that she has to board in an hour, while she is now standing at a sign that says it will take more than 90 minutes from there until security.
According to the spokesperson, there is no question of a chaotic or tense mood at the moment. According to her, the lines just keep going. About a month ago, the Marechaussee had to intervene because the security personnel at Schiphol felt threatened by passengers who were afraid that they would miss their flight. "There is no such situation," she says.
The airport has been struggling with occupancy problems for some time and has taken measures to keep the crowds somewhat manageable. For example, Schiphol has asked travelers not to arrive at the airport earlier than four hours before departure.
People who think they can avoid the chaos at Schiphol by flying from a regional airport are disappointed. It is also busy elsewhere.
For example, early on Saturday morning there were long queues of departing travelers at Eindhoven Airport. According to Judith de Roy, spokesman for the airport, the crowds there are not only due to the staff shortage. According to her, the problem is also that many people come to the airport too early. ,,Sometimes five to six hours before they fly. Then you have to deal with a double load of passengers."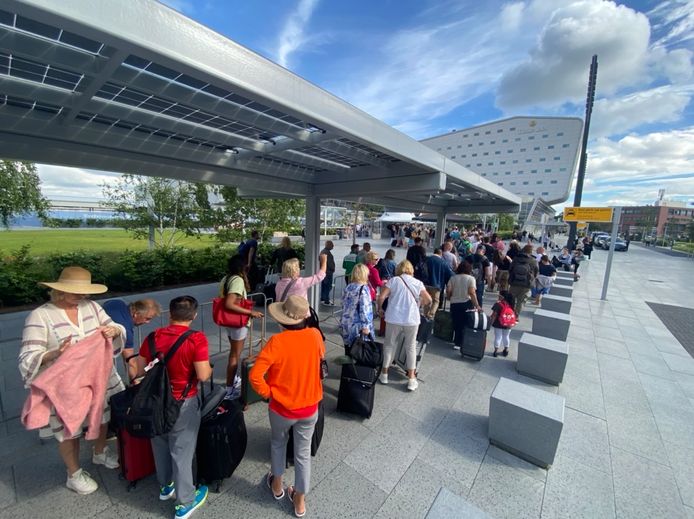 About 20,000 to 25,000 passengers come and go every day. The peak crowds also led to a lot of complaining on social media. 'Thick lines for people who want to fly from #eindhovenairport', says Ewa Maria Kobierowska. "Airport Nightmare," Mike NRW tweeted. A tweeter also criticized people who come to the airport way too early. 'At Eindhoven Airport there are people in line whose flight does not leave until 4 pm…. Just get those guys out of the line.'
According to the spokesperson for Eindhoven Airport, it can be just a bit busier at one moment than the other. By about 10 a.m. Saturday morning, the long line had already halved. It is not very exceptional.
The day before it was also extremely busy and that led to very disappointed and irritated reactions. Justin Vos (30) and his nine teammates from the Spakenburg team of friends FC Stantuk saw the plane take off while they were still standing at the gate. As a result, they miss their football tournament in Madrid, which they had really looked forward to. They just have to see if they can still recover the money somewhere. The annoyance was great: "We live half an hour from Amsterdam and had deliberately chosen Eindhoven to avoid Schiphol", reacted an annoyed Vos (30).
Germany
At the German airport Düsseldorf, which has become extra popular with many Dutch people partly due to the chaos at Schiphol, it is not much better this weekend. There are also long lines of angry and sad travelers. According to the German newspaper picture some travelers are only informed by text message at the very last minute that their flight has been canceled.
On Saturday at least a thousand passengers were stranded in Düsseldorf. And there are also major problems at the airports of Bonn and Cologne due to staff shortages. "Travellers thought they were going to a holiday paradise, but ended up in airport hell," concludes picture†
To keep the crowds manageable, several airlines were forced to cancel flights. For example, Lufthansa canceled five flights from Düsseldorf on Saturday, subsidiary Eurowings already canceled sixteen flights on Friday and canceled another four flights on Saturday, sister company Austrian kept it at two.
There were not only many cancellations but also delays. In a number of cases, the baggage had already been handed in. Then there was a big clamor in the baggage departments – which also suffered a malfunction – as angry passengers wanted their bags quickly in an attempt to take yet another flight.
One of the victims was the German Lisa Mehic (30) from Dortmund who stranded with her grandmother Christine Garisch (69) in Düsseldorf: ,,The flight to Rome was suddenly no longer on the board. At the counter we were told to pick up our bags. When I got there I was told that the flight had left. With our suitcases on board, but without us," she told picture†
According to the airlines, the problems are due to a shortage of personnel, especially in baggage handling and flight crew. The Verdi airline workers union also points an accusing finger at the police and private security firm DSW, which have "insufficient control" over security controls.
The German Consumers' Association emphasized this weekend that consumers are entitled to compensation for cancellations and delays, but airlines would try to avoid that, according to the consumer organization. They deceive their customers, offer cumbersome alternative flights, refuse refunds or accept lawsuits.
Watch all our videos about the chaos at Schiphol here:
Join the conversation
You can respond at the bottom of this article. Only respectful comments with a full name will be posted. We do this because we want to have a conversation with people who stand for what they say, and who also put their name on it. If you still need to enter your name, you can do so by clicking 'Login' at the top right of our site.
Free unlimited access to Showbytes? Which can!
Log in or create an account and never miss a thing from the stars.

Yes, I want free unlimited access