Today marks five years since the launch of Fallout 76, one of Bethesda's great historical bets in the field of online multiplayer, but also a title with a bumpy trajectory to say the least. One that, five years later, has followed the example of other games, such as No Man's Sky or Final Fantasy XIV, to trace its own story of redemption.
Because it is undeniable that the beginnings were not the best. The project had to face, on the one hand, the always dangerous expectations; The Fallout fan community, after Fallout 3, New Vegas and Fallout 4, had a more or less clear idea of ​​what it wanted from a multiplayer set in the Wasteland, but what we received at launch in 2018 was substantially different, with a an unusually peculiar approach to its design and a few basic deficiencies that made quite a few users turn their noses up. To that, we also had to add that its initial state left a lot to be desired, with quite a few bugs and technical problems. The Fallout 76 adventure seemed to end as soon as we left the shelter.
But the developers did not throw in the towel. Throughout 2019, the game improved significantly in its technical section, polishing bugs and correcting problems. With the two major updates that were published that year, Wild Appalachia and Nuclear Winter, new game modes began to be introduced (survival and Battle royale), more secondary missions, daily missions and events, the legendary item seller and the mysterious Shelter 94. Little by little, following the indications of community feedback, Bethesda was trying – successfully – to correct course.
At the end of 2019, a movement that was as controversial as it was fascinating in its results was made. With Bethesda aiming to make all updates and expansions free, a subscription system, Fallout 1st, was introduced, offering private worlds, unlimited storage, and other extras. It was a logical move to fund the game in the long term, but it understandably divided the community and generated numerous opinions against it. And in this breeding ground arose one of those magical moments of emergent narrative that MMOs sometimes give us, in which the Wasteland was divided into a side of users with 1st and another of users without, with assaults, robberies, combats and a confrontation that for a season, instead of dynamiting the community, made Fallout 76 transform into something that not even its creators had foreseen: into a class conflict that evolved naturally and spontaneously, and that also made the funniest game – even for those watching from the outside – by accident.
The real turning point, however, came in April 2020, with the release of the Wastelanders update. It added a new main story, human NPCs and a dialogue system (probably what we missed most in the initial release), a reputation system and the game also came to Steam. It was an important update because it began to turn Fallout 76 into what the community had wanted from the beginning, and it also came at the perfect time: during the pandemic. With the world locked in their home, looking for ways to communicate with those close to them, the Bethesda game saw the number of users skyrocket, with a community that grew exponentially trying to escape in the Wasteland from the terrible reality that devastated the real world.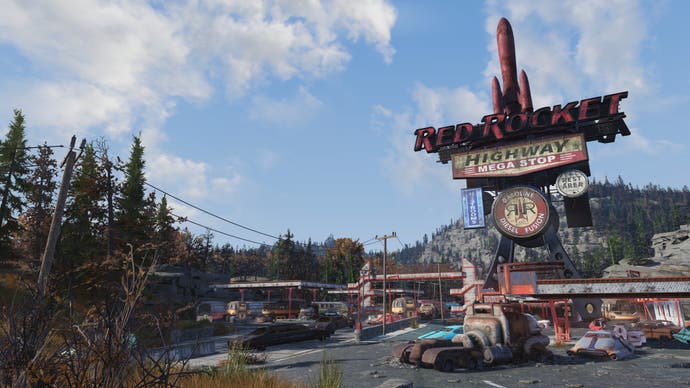 Since then, the flow of updates, both in terms of content and bug fixes and quality of life (it was optimized and improved, for example, to take advantage of the Xbox Series X/S and PlayStation 5 hardware), has been fast and constant. The Brotherhood of Steel has been introduced, tons of new quests, the expedition to Pittsburgh (a place we've been meaning to revisit since Fallout 3's The Pitt expansion), and the story and world have been greatly improved. The developers have been adapting the game day after day, they have listened to the community and now we have a solid and recommendable title. To that, we must also add its inclusion in the Xbox Game Pass and PlayStation Plus services from Microsoft and Sony, which has opened the doors of Appalachia to a huge number of players. In recent years, it has remained at more than respectable numbers and there has always been a lot of people to play with.
People who make a fantastic community, I might add. As with The Elder Scrolls Online (I don't know exactly what it is about Bethesda games to encourage this), Fallout 76 players are extremely open with newbies, and you can always find someone to give you a hand, to help you. guide on an adventure in or simply have a fun time in your company. Also someone who behaves like a bloodthirsty dweller, of course, but this is the post-nuclear Wasteland.
A new expansion, Atlantic City, will arrive in a few weeks, promising to revitalize the Wasteland with new adventures in an area full of secrets and possibilities. And with the Fallout television series premiering in April 2024, the future of Fallout 76 seems more than assured. It is, perhaps, the best time to enter it; If the initial launch left a bittersweet aftertaste, give it another chance; You'll likely be surprised by how much (and for the better) Bethesda's game has changed in these five years. And if you haven't yet immersed yourself in its immersive world, do so; There are, here, hours and hours of entertainment and adventures, alone or in company.