While the Kabul International Airport was filled with thousands who were forced by the panic that gripped their hearts to flee from an unknown fate after the "Taliban" movement took power in Afghanistan, "Fati" and her colleagues were planning to save their lives and they were not stopped by their football future, whose features have not yet been clear despite the passage of nearly year on the journey of salvation.
The BBC published a lengthy report on the state of the Afghan women's football team and its members after they left their homeland on a perilous journey that would have cost them their lives, and their football dreams, which have become postponed until further notice.
A scene from Kabul airport after the Taliban announced their assumption of power
Helped by honing her communication skills, the BBC did not give her full name in order to protect her family, Fati, who had been helped by English films and series, fled as soon as the Taliban declared control of the country and left her family behind: I accepted that my country was gone.
And she continued: I realized that there was no chance to live, no chance for me to go out again and fight for my rights, no schools, no media, no sports, we were like corpses in our homes, I did not know the taste of sleep for two weeks, I use my phone for 24 hours, I search social media and text anyone who can help.
After several days of patience that turned to despair, Fati found a way to help her and her colleagues escape from Kabul.
The evacuation plan was planned more than 12,700 kilometers away in the city of Houston, Texas, by a former Marine named Haley Carter, aged 37 years.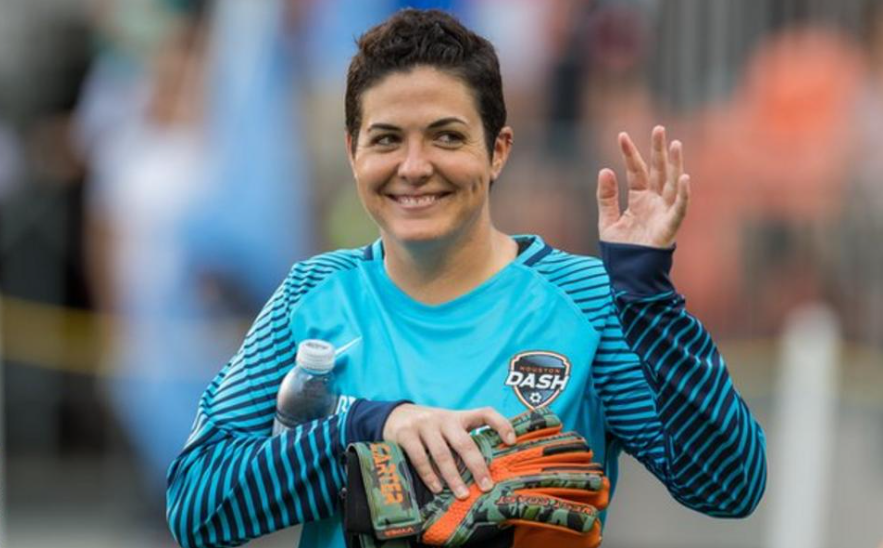 Haley Carter in the Houston Dash jersey
"It was like a virtual operations center inside WhatsApp," says Haley. Never underestimate the power of a woman with a smartphone.
Carter was a soccer player and goalkeeper for her team as well. After serving in the army she spent in Iraq, she played from 2013 to 2016 in the Houston Dash team and then moved to work as an assistant coach for the Afghan national team in 2016 to 2018.
Thousands of miles away did not prevent her from communicating with her former team members, and sharing the information they shared with intelligence and national security personnel in the United States, and the evacuation of Fatty and her colleagues was called "Digital Dunkirk", in reference to the famous war movie.
And Carter continues: In a normal war environment, we wouldn't be able to share this information with you, but it's an evacuation, and to be honest with you, I didn't think it was possible.
Carter was contacted by Khaleda Popal, the former captain of the Afghanistan women's soccer team, who was forced from her country after being threatened with death in 2011 and has since been living in Denmark.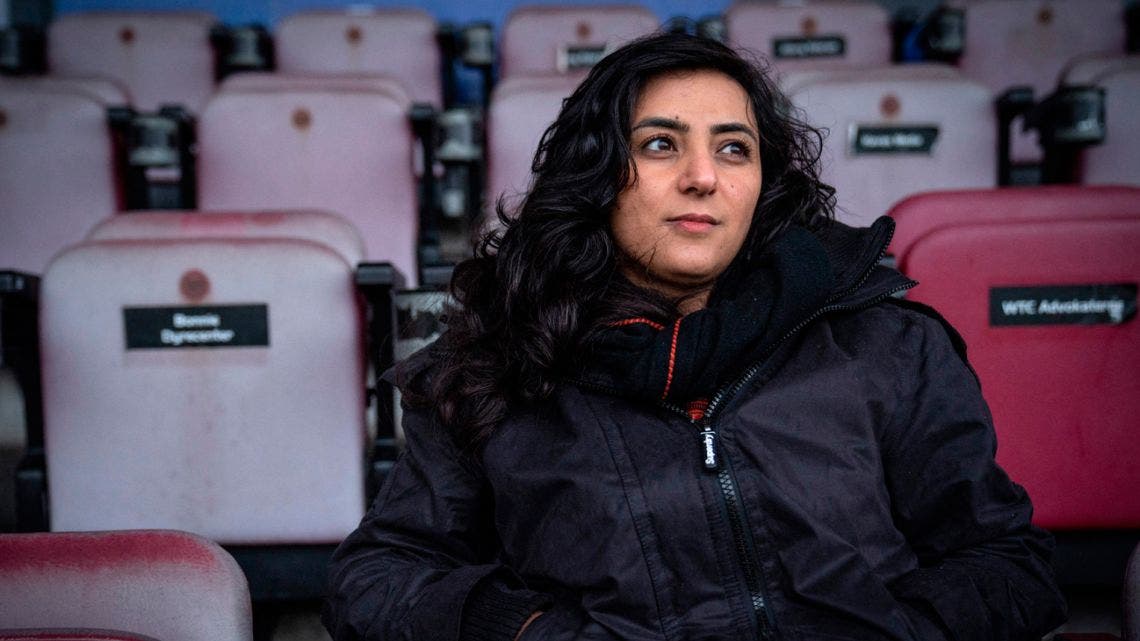 Khaleda Popal, former captain of the Afghan national team
Bhopal realized that Fati and her colleagues were in danger after the Taliban came to power, and after communicating with them, she demanded that they delete their accounts on social media, bury prizes and burn sports clothes.
Fati commented: It was difficult because it is our achievement, who would want to burn their shirts? I thought to myself: If I survive, I will achieve those accomplishments again.
In parallel with Bhopal's communication with Fati and her colleagues, Carter worked to try to provide a military plane to transport relations in Kabul outside the country, especially since the security situation is getting worse and more dangerous with the Taliban setting up checkpoints everywhere.
And Khaleda sent a message to my girl saying: Girls, get ready to leave for the airport together, one backpack for each of you, I can't tell you you can get into the airport, but whoever fights, survives.
When the time came, Fati wrote Carter's phone number on her arm in case her phone was confiscated, and the latter told them to take food for three days in case they were late on the plane, while sticking to a long dress that covered their faces as well.
Fati continues: We arrived at the airport safely, but the situation was desperate, it was a matter of life or death, everyone was trying to survive.
On the other hand, Carter knew that if your name wasn't on a list, or there was no one at the airport to pick you up, you wouldn't get on a plane.
Carter's last message to Fatty and her colleagues was: A man will be waiting for you at the north gate, you must come on time, and give him the password, he will understand it and get you on the plane without any questions. The password was the name of WWII Marine John Basilon with the founding date of the Marine Corps.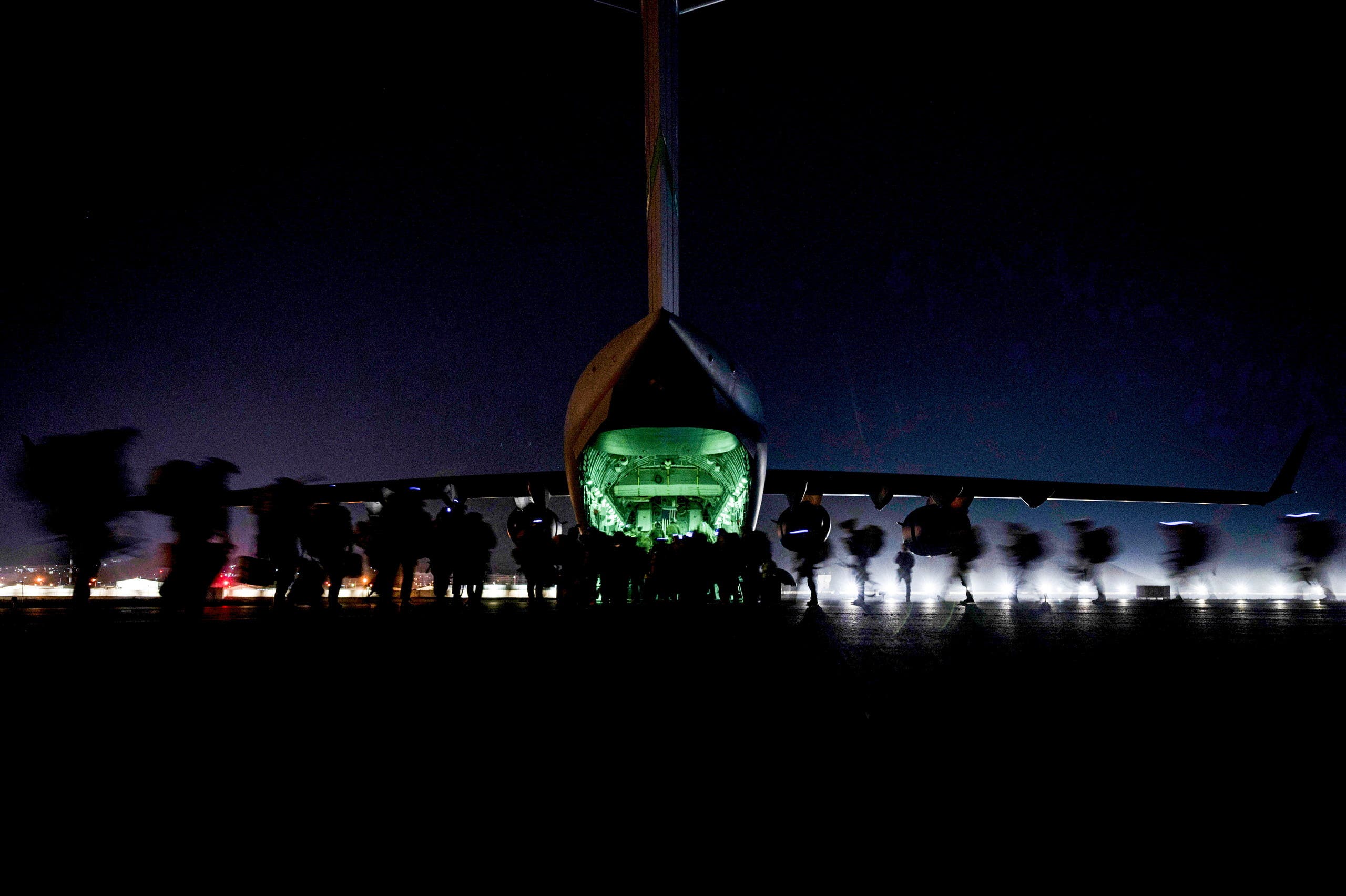 Evacuations at Kabul airport
Fati was shocked when she reached the agreed gate. She tried to tell the soldier the password, and he said to her: Who are you? You will not board any plane without an American passport, and she continues: We waited outside and it was very hot, children screaming: We don't want to die with bullets roaring, everyone's eyes were looking at me as if they were telling me: Find a solution, so I decided to try again from The southern gate, despite the presence of more than one Taliban checkpoint.
With the heat of the weather and bodies crushing each other amid the Taliban's guns hitting people, I began to surrender, but I remembered Bhopal's message that whoever fights survives, something lit up in the darkness and told me to try again, we regrouped again, and we took advantage of the distraction that caught the attention of the soldiers Taliban to pass behind them, we found some Australian soldiers, and we started saying some words like football, national team, so they let us cross after checking our documents.
When a military transport plane takes off for Australia, carrying Fati, her female colleagues and some Afghan Paralympic athletes, she sends "We Did It" to Carter, but her mind is telling her that she will never go back to the place where her sweet childhood memories were made, it's the last time.
In Australia, Fati and her colleagues trained together for the first time last February, after Melbourne Victory Club provided them with good facilities and a full coaching staff.
Fati commented: It was such a great feeling, we got everything back again, and we got new hope.
In April, Welshman Jeff Hopkins was appointed coach of the Melbourne Victory women's team, and Fati drew in her first match since fleeing Kabul 0-0 against a local team, and her shirt with her teammates' shirts did not bear any names, only their team numbers, in order to protect their identities and not They run the risk of being identified and retaliated by their relatives there in Afghanistan.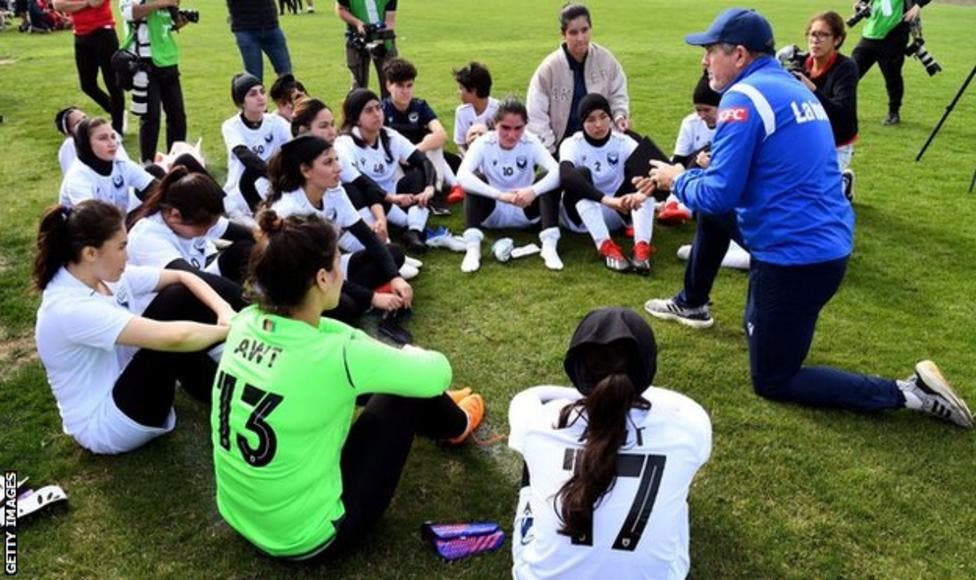 Afghan women players during a match in Australia
The fate of Fati representing her country again is still unknown, as it requires the approval of the Afghan Football Association, which means the approval of the Taliban, which is something no one expects. My teammates, we have each other, we are already family and no one can change that.
Carter met Fatty in Australia in April: She is an amazing young woman, the courage shown by that group of young women is incredible, these women are my heroes.