Last Updated: 19 Jun, 2022 05:25 AM
Published: 19 Jun 2022 05:25 AM
Last Updated: 19 Jun 2022 05:25 AM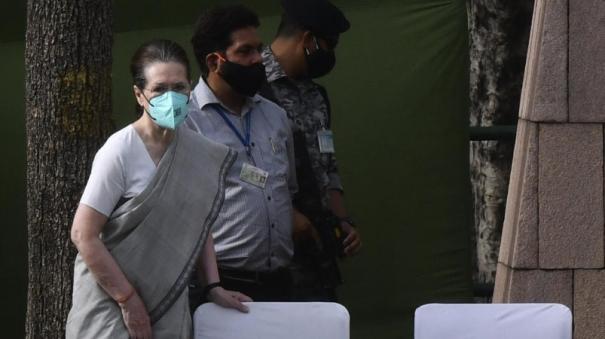 New Delhi: Congress President Sonia Gandhi has appealed to the youth to fight peacefully against the Agni Path project.
Congress President Sonia Gandhi is being treated at a hospital for post-Corona health ailments. He has written a letter to the youth at a time when violence is currently taking place in many parts of the country against the federal government's Agni Path project. In it he says:
The Central Government has announced a new recruitment policy for the Armed Forces. This is unfortunate. It is completely without direction to go. The voice of the youth is to be ignored. Many ex-servicemen and security experts have questioned the plan. Congress will stand by the youth who are fighting against the Agni Path project. I promise to fight for the welfare of the youth and for the withdrawal of this project. As true patriots we will express your voice in the way of truth, non-violence and peace.
I urge you to fight for your just demands in a peaceful and non-violent way. The Congress Party is there to support you. Thus Sonia Gandhi said in her letter.
Rahul's request to withdraw
Former Congress leader Rahul Gandhi has demanded that Prime Minister Narendra Modi withdraw the Agni Path project as he has withdrawn agricultural laws.
On his Twitter account yesterday, Rahul Gandhi said, "The BJP government has been insulting soldiers and farmers for the last 8 years. I have already said that the Prime Minister should repeal the black agriculture laws. Those laws were withdrawn.
Similarly, the Prime Minister should accept the demands of the youth of the country and withdraw the Agni Path project. "
Congress general secretary Priyanka Gandhi Vadra has also slammed the federal government over the Agni route project.
"We need to understand the pain of young people preparing for military recruitment," he wrote on Twitter. No personnel have been recruited for the Army for the last 3 years. Frequent running has caused blisters on the feet of those young men. They are in despair. Young people are waiting for Air Force recruitment results and appointments. The government has confiscated their permanent employment, position and pension. Recruitment has stopped. "
.