Published: 25 Feb 2021 03:15 am
Updated: 25 Feb 2021 05:38 am
Published: 25 Feb 2021 03:15 AM
Last Updated: 25 Feb 2021 05:38 AM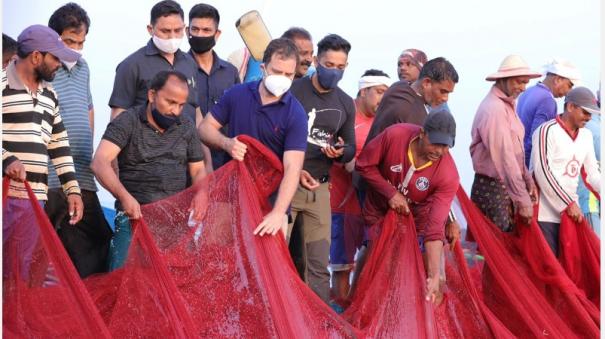 Kollam
Alone for the benefit of the fisherman Department of Fisheries Wayanad constituency Congress MP says ministry is needed. Rahul Gandhi Has requested.
Senior Congress leader Rahul Gandhi He had gone to Puducherry last week. He then discussed with the fishermen at Muthialpet. Speaking to fishermen, he said, "The central government has passed 3 laws against the backbone farmers of the country. While there is a ministry for land farmers in the middle, why not for marine farmers? A separate ministry should be set up to address the grievances of fishermen."
Without even knowing that the Ministry of Fisheries already exists for the benefit of fishermen Rahul Gandhi The BJP has been sharply critical of the fishermen.
Giriraj Singh, who is also the Union Fisheries, Animal Husbandry and Dairy Minister, commented on his Twitter page.
The federal government created a new ministry for fisheries on May 31, 2019 Rahul Gandhi Want to know. The government has so far spent Rs 3,683 crore on fishermen through the ministry.
Congress MP Rahul Gandhi, who is in Kerala, spoke to fishermen at Thangacheri beach near Kollam yesterday. He said, "The central government should create a separate ministry for the benefit of fishermen. This morning I went out to sea with the fishing brothers. They performed better until I returned to shore safely. If they work hard and fish in the sea, someone else will benefit. The Central Government has created the Department of Agriculture for the agricultural population. But there is no separate ministry for fishermen. People in Delhi will not talk about you. I will fight for you and create a separate ministry. "
Earlier in their boat with fishermen from Kollam Wadi beach Rahul Gandhi He sailed a short distance. Then he threw the net and caught the fish.
.