Exhausted and loaded with children as well as items, dozens of displaced people from the southeastern city of Mariupol arrived on Tuesday to safety in the Ukrainian government-controlled city of Zaporizhia, after they had been hiding for weeks in fortifications.
Below the Azovstal steel plant complex, besieged by Russian forces.
Exhausted people, including young children and elderly people saddled with bags, emerged from buses at a shopping mall in Zaporizhia, in southeastern Ukraine, after fleeing Mariupol, their devastated hometown.
We said goodbye to life
Many of them told the horror of the destruction, oppression and siege that they experienced for weeks in the city. "We said goodbye to life, we didn't think anyone knew we were there," said 70-year-old Valentina Sitnikova, who has been sheltering at the Azovstal plant for two months with her son and 10-year-old granddaughter.
She also added that 17 other families, accompanied by their children, took shelter with them in the factory, but their fortified shelter collapsed around them when Russia bombed the area, pointing out that Ukrainian soldiers pulled them out from under the rubble three days ago, according to Reuters. She continued, crying, "My granddaughter was telling me that I was afraid, afraid, and I would reply to her, 'It's okay, we'll get out of here somehow.'"
Displaced people from Mariupol, southern Ukraine (Associated Press)
"I can't believe I did it, we just need to rest," said Alina Kositskaya, who spent weeks hiding in a basement with her bags, waiting for a chance to escape.
Everything collapsed
As for Tatiana Bochlanova, 64, who is still in Mariupel, she recounted what had happened to the devastated city, stressing that she had become so accustomed to Russian bombing that she did not startle when the shells exploded. "You wake up in the morning and cry..and in the evening you cry..I don't know where to go…everything collapsed, everything was destroyed," she said, in front of one of the wrecked buildings, wiping away her tears.
She also added, "The bombing does not stop. I don't know how I will stay here in the winter… without a roof… without windows…".
'Everyone forgot them'
Meanwhile, 29-year-old Ksenia Chebysheva, who is married to a fighter in the Azov battalion holed up in Azovstal, recalled the fate of hundreds of Ukrainian men and fighters stuck in the huge factory, saying, "We are afraid that the men will be left there after the civilians are evacuated… We don't see any signs of help."
While another woman confirmed that they are without food, water or ammunition, saying, "Everyone has forgotten them."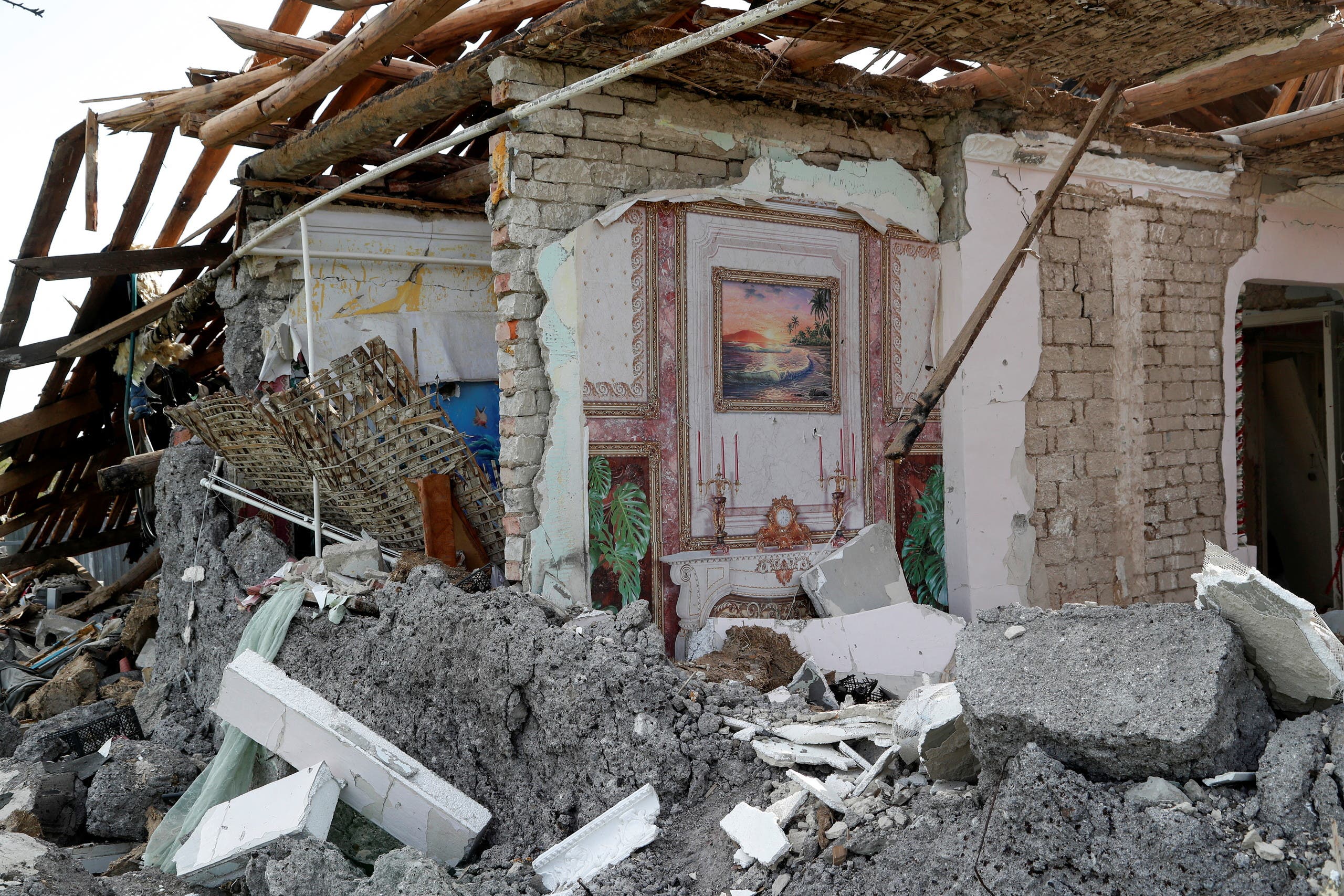 From Mariupol, southeast Ukraine (Reuters)
Heartbreaking testimonies.
"The testimonies received by the mission are heartbreaking," said Pascal Hundt, head of the ICRC delegation in Ukraine. "We were hoping that more people would be able to join this caravan and get out of hell."
He also stressed that "there are many who really want to leave, but they have been trapped by the hostilities." He stressed the need to alleviate the suffering of civilians trapped in the city, which has come under Russian control, saying, "Many evacuations should be conducted urgently."
200 civilians in Azovstal
It is noteworthy that there are still more than 200 civilians in the Azovstal steel plant, according to what Vadim Boychenko, the mayor of Mariupol, said yesterday, with a total of about 100,000 civilians in the city, which was destroyed by the Russian siege and bombardment for weeks.
Meanwhile, the sprawling Azovstal industrial complex, its bunkers and tunnels, have become a haven for many Ukrainian civilians and fighters.
The United Nations and the International Committee of the Red Cross coordinated the evacuation of the city, to remove women, children and the elderly from the steel plant, which began on April 29 last, and lasted five days. "Thanks to this operation, 101 women, men, children and the elderly were finally able to leave the bunkers under the Azovstal steel complex and see sunlight after two months of siege," said U.N. Relief Coordinator for Ukraine Osnat Lubrani.
Since the launch of the Russian military operation on the lands of its western neighbor on February 24, Mariupol, overlooking the Sea of ​​Azov, has been a strategic target for Moscow, since its control will open a land corridor for the movement of Russian forces between eastern Ukraine and Crimea, which Moscow annexed in 2014.