Sweden's parliament voted Monday to select Social Democratic Party leader Magdalena Andersson as Sweden's first female prime minister.
The Social Democrats, the Environment Party, the Center Party, and the Left Party voted for Andersen with 175 votes, while the Swedish Democrats, Liberals, Conservatives and Christian Democrats voted against her (173 votes).
Magdalena Anderson congratulated Parliament on her appointment as Prime Minister on Monday
Andersen thus became the thirty-fourth prime minister in Sweden's history. Her appointment came yesterday after she had resigned hours after being elected to this position last Wednesday, after she failed to pass the draft budget in Parliament, after the Green Party withdrew from the government coalition.
Anderson had clarified shortly after her resignation on Wednesday, "There is a constitutional custom that states that coalition governments must resign if any party withdraws from them… and I do not want to head a government whose legitimacy is challenged."
A day later, last Thursday, Swedish Parliament Speaker Andrian Norlin said in a press conference that he regretted the political developments that occurred on Wednesday, indicating that they could have been avoided if he had been informed of the Green Party's intention to leave the government.
Having won the confidence of Parliament for the second time on Monday, Andersen became the first woman elected to the post of Prime Minister in the Kingdom of Sweden, where women have played a significant role in previous government formations.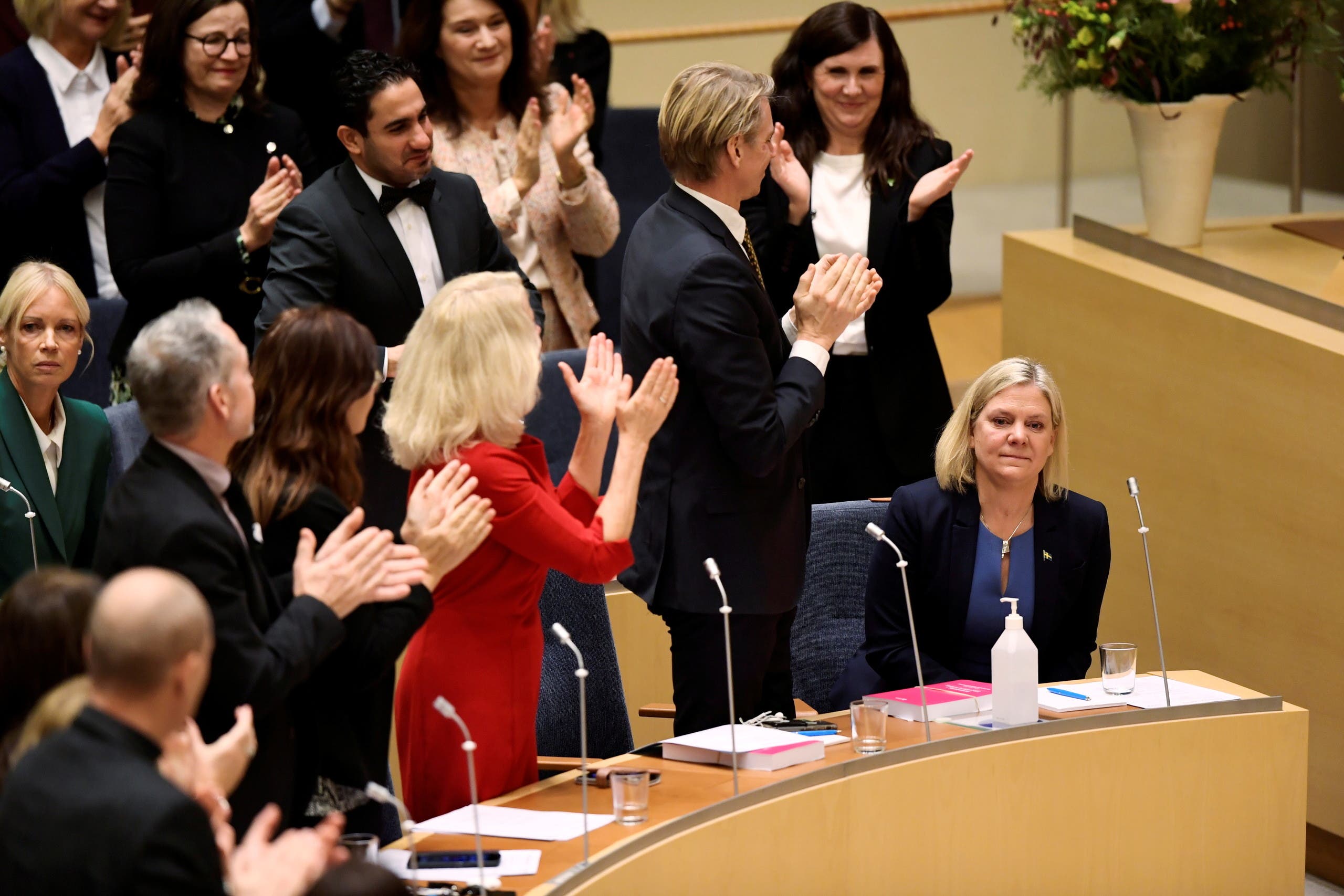 Congratulations to Magdalena Anderson in Parliament on her appointment as Prime Minister on Wednesday
Magdalena Anderson, born 1967 in Uppsala, is a politician and economist who graduated from Harvard University. She worked as a political advisor to former Swedish Prime Minister Goran Persson from 1996 to 1998, then worked as Director of Planning from 1998 to 2004, after which she spent some time in social services, then from 2004 to 2006 she held the position of Minister of State in Finance, before Becoming a political advisor again from 2007 to 2009, this time to opposition leader Mona Sahlin.
She then held the position of Senior Director of the Swedish Tax Administration, a position she held until 2012, only to resign after accepting the candidacy for the Social Democratic Party before the 2014 general elections.