Hunter Biden's plea bargain would likely avoid a prison sentence, but would only inflame the Republican opposition against his father, Joe Biden.
Hunter's case could cause unnecessary political trouble for his father, as his political enemies seek to weaponize his son's legal struggles in the 2024 presidential campaign.
Senior conservatives, including Republican House majorities and key committee chairs, highlight Hunter's legal woes and career in an effort to portray the president as heading a "crime family."
While their primary intention is to protect former President Donald Trump, who is under intense legal pressure in multiple cases related to his behavior before, during and after his presidency and seeks to delegitimize the political and legal institutions that hold him accountable.
Not to mention that many GOP efforts to capitalize on allegations against Hunter Biden have so far failed to provide evidence of wrongdoing by the president.
While Joe Biden may face many more prominent issues complicating his re-election bid, not the least of which is his low approval rating, according to a CNN report.
However, US House of Representatives Oversight Chief James Comer said on Tuesday that the US attorney handling the Hunter Biden case, a Trump appointee, will be called to testify before one or more committees while the GOP conducts its own investigations into the president, indicating that the party The Republican will work on it to keep the issue alive in the presidential campaign.
Republican strategy
In this context, the Republican Party's strategy is to try to portray Biden and his family as corrupt. The notion that the Justice Department is engaging in political interference is central to GOP strategy in the Trump era, especially since the former president is now the first person to run despite being charged with federal criminal charges over his alleged mishandling of classified documents after leaving office.
He was also indicted in Manhattan on charges of falsifying business records related to payments to silence movie star Stormy Daniels before the 2016 election, though he denied any wrongdoing in both cases.
A political embarrassment to Biden
And while Hunter Biden got an easier deal than many in the GOP had hoped for, the expected endorsement deal represents a major personal and political embarrassment for the son of a president running for re-election.
It also marks another twist in the tragic and turbulent life of Hunter Biden, who lost his mother and baby sister in a car accident and his beloved older brother, Beau Biden, to brain cancer.
Hunter's behavior provided ripe political ammunition for Republicans, one that has been especially exploited as the GOP seeks to protect Trump and as his legal exposure mounts.
For his part, Trump said in a comment on his network, "Truth Social", that Hunter had only received "a normal fine for violating the driving law," repeating his statement that the judicial system "doesn't work."
The Speaker of the House, Republican Kevin McCarthy, also denounced "preferential treatment."
Drugs and firearms
Hunter, 53, has pleaded guilty to one part of a federal income tax fraud case, according to Attorney General David Weiss.
According to the same source, the agreement with the US Attorney General's Office stipulated that he admit in his state of Delaware that he possesses a firearm.
Hunter was charged with possession of a firearm in 2018, while he was addicted to drugs.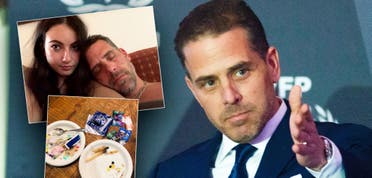 Hunter Biden
The US President has always publicly supported his son Hunter, and said he was "proud" of him, during a heated debate against Trump before the 2020 presidential election.
Joe Biden rejects corruption accusations issued by the Republican opposition in Parliament, which says that he has carried out suspicious actions in Ukraine and China, while Joe Biden was Vice President Barack Obama (2009-2017), benefiting from his father's relations and his name.
"My son did nothing wrong," Biden said in an interview with MSNBC last May, adding, "I trust him."