Abu Dhabi: Embassy warns Indians in UAE that online scams are increasing in the name of Embassy. The Indian Embassy in UAE has warned the Indian expatriates that scams are being done by using fake social media handles and fake e-mail addresses which at first glance appear to belong to the embassy and to be vigilant against these. In a post through social media, the embassy stated that the fraud gang's method is to trap expatriates who need help and extort money. Money is extorted from them by giving promises of help.

Searching for those who need fraud help
In the wake of the economic crisis created by the Covid pandemic, the fraud group is targeting expatriates who tag Prime Minister Narendra Modi, External Affairs Minister S Jaishankar, and other ministers and ask for help on Twitter. The technique of fraud gangs who are experts in technology is to contact them through social media on the pretense of helping them and extort huge amounts of money by offering various services and help.
Using fake Twitter and email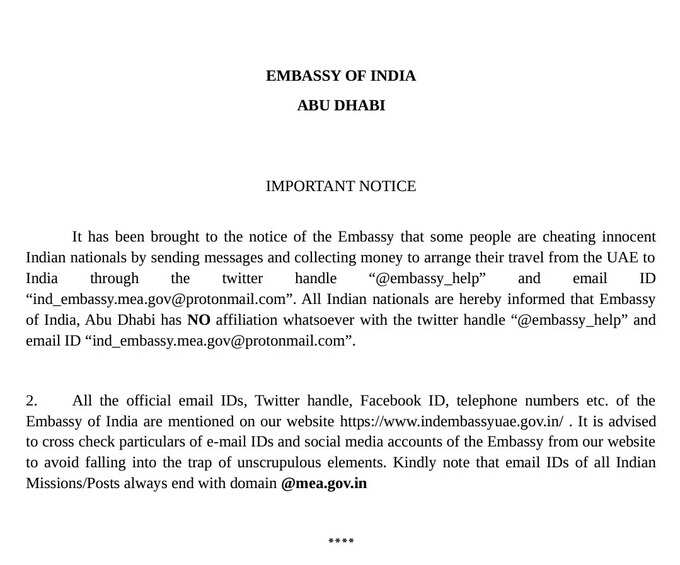 The gang used the Twitter handle @embassy_help and email address ind_embassy.mea.gov@protonmail.com, which appeared to belong to the embassy, ​​to scam expatriates. It is reported that the gang extorted from 700 dirhams (about 15000 rupees) to 1800 dirhams (40,000 rupees) in this way. In this way money is extorted for travel tickets from UAE to India, visa processing fee etc. In an official notice issued by the Embassy, ​​it has been stated that the Indian Embassy has no association with such Twitter handles or e-mail addresses and should be vigilant against frauds. In this regard, the authorities have come out with such a warning in a situation where complaints and notifications are coming from the victims of fraud and those who know about it.
Authenticate before sending money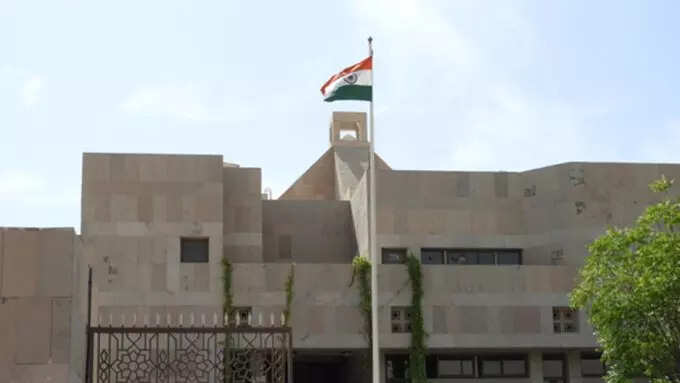 The official e-mail addresses, Twitter handle, Facebook page and telephone numbers of the embassy are published on the official website of the embassy. Everyone should check these and make sure that the messages and offers of help you receive are not from fake IDs. Email addresses of Indian diplomatic missions abroad shall end with the domain @mea.gov.in. Anything else is fake. Indian Embassy in UAE has only one Twitter handle @IndembAbuDhabi. The notice says that non-residents should not send money on promises without verifying the authenticity of the messages received by the Indian Embassy or its staff and should be cautious in this regard.