After the Taliban, since assuming power in August 2021 until now, has forced women to wear the veil that covers the head only, leaving the face visible, even though it had strongly recommended wearing the burqa that it had previously imposed during its first rule, it returned and revealed yesterday, Saturday, Her face, which she has never changed, it seems, repeating her old history.
The militant movement has again imposed a ban on Afghan women wearing the blue burqa in public, penalizing heads of families who do not force their women to do so, highlighting once again the country's old Taliban policies.
The story of the blue burqa
This blue burqa, which became a global symbol of the Taliban regime, appeared when the movement ruled Afghanistan from 1996 to 2001, when it was imposed throughout the country by law, during the nineties.
Leather for those who don't wear it
Indeed, between 1996 and 2001, Taliban officials lashed every woman they found not wearing a burqa.
The militant movement also deprived women of all their basic rights, and their lives were a continuous taboo, as they were not allowed to wear bright clothes, make up, or even receive an education. They were also prevented from going not only to work, school or university, but to the bazaar for shopping.
In addition, the movement banned music and closed beauty salons, and its Sharia police constantly monitored compliance with these strict rules, imposing punishment.
For her part, an Afghan activist tweeted, "These are my grandparents in the 60s in Kabul. While I agree that this Western dress is not popular either, but why 50 years ago people were free to wear whatever they wanted and today women are required to wear the burqa" And stay at home?"
My paternal grandparents In the 1960s in Kabul. While I agree that this is western dress and also not common but why is it that 50 something years ago my people were free to dress how they wanted and today women are being told to wear a burqa and stay home? pic.twitter.com/xnGZnw70EK

— Fatimaaa (@FatimatheAfghan) May 7, 2022
Another added, "Centuries ago, this was the dress of Afghan women even in remote areas. Now some foreign agents want to invade our culture with an extreme version of the burqa."
Centuries back this used to be the dress code of Afghan women even in the most remote areas. Now, some foreign proxies want to invade our culture with extreme version of Burqa cla. pic.twitter.com/8qpWQBP9UU

— Ahmad Shah Katawazai (@askatawazai) May 7, 2022
brutal repression
It is noteworthy that in the last two decades, Afghan women gained new freedoms, returned to schools and applied to obtain jobs in all sectors, even though the country remained socially conservative.
Before the movement's return to power, the vast majority of Afghan women were veiled but with a loose scarf. Most women in the country wear a headscarf for religious considerations, but the majority of them in urban areas, such as Kabul, do not cover their faces.
However, the re-imposition of the burqa across the country, prompted many human rights activists to object to this decision, arguing that the Taliban set Afghanistan back again.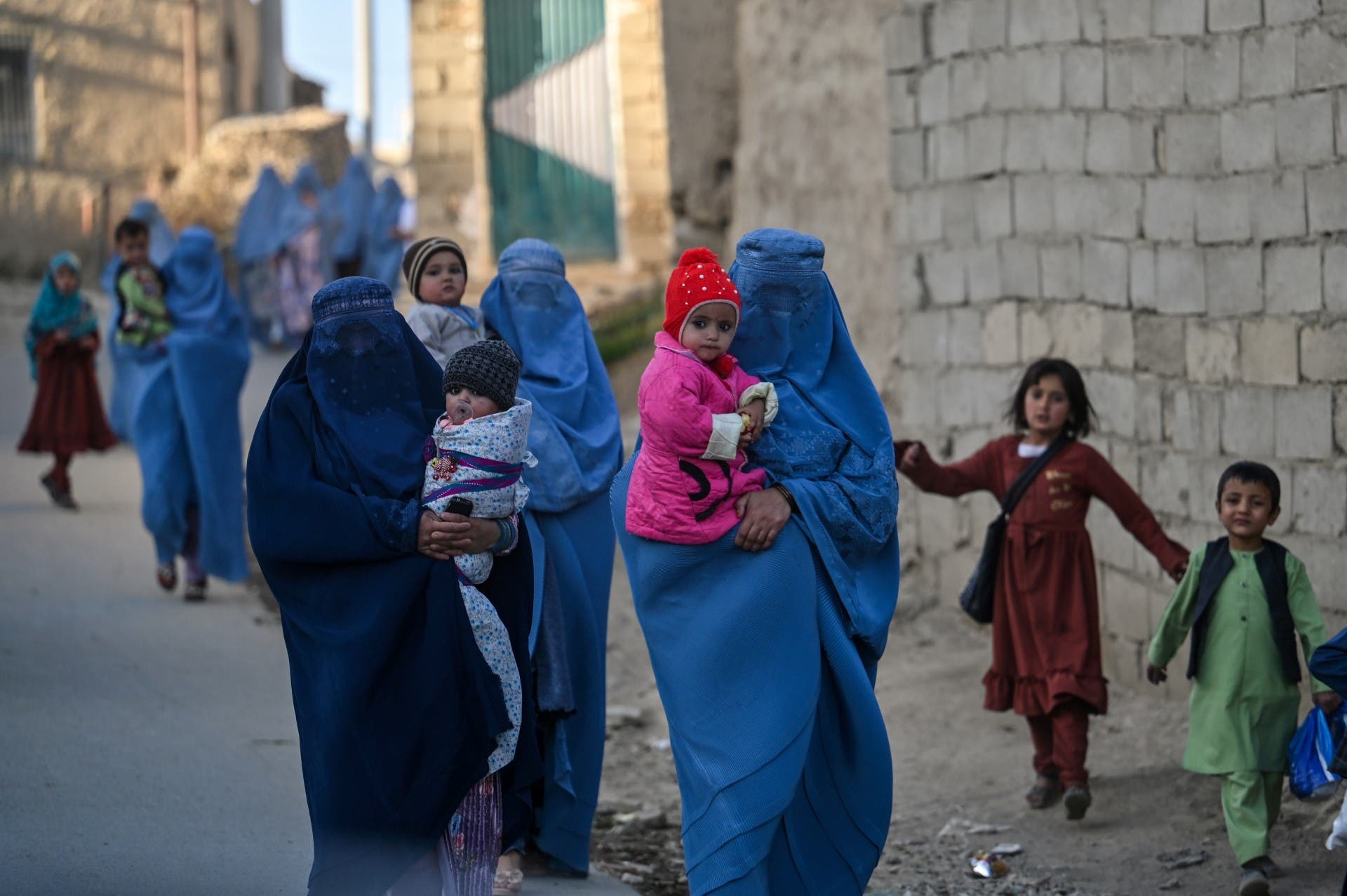 Afghan blue burqa (AFP)
In this context, Pakistani analyst Imtiaz Gul told AFP, "It is an unexpected step backwards. It will not help the Taliban extract international recognition of the legitimacy of its rule, and such steps will only strengthen its opponents."
It is reported that after the movement's return to power, women tried to claim their rights by demonstrating in Kabul and major cities. However, their movement was brutally suppressed, and many activists were arrested and some were detained for several weeks.