Last Updated: 21 Jun, 2022 06:08 AM
Published: 21 Jun 2022 06:08 AM
Last Updated: 21 Jun 2022 06:08 AM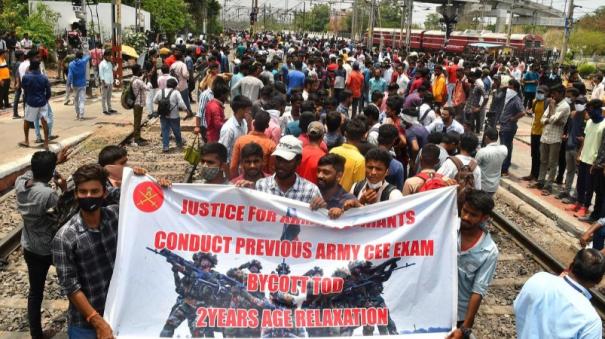 New Delhi: 500 train services across the country were affected during the blockade against the Agni line project.
The Central Government on the 14th announced the recruitment of soldiers under the Agni Path project in the Army. Young people who have been training to join the army are dissatisfied with the spread of reports that soldiers who are recruited on a 4-year contract will not be given a pension.
Young people, especially in Bihar, have been involved in violence for the past five days. The trains were set on fire. Rs 700 crore worth of public property was damaged.
In this situation, some organizations across the country have called for a full-scale protest against the Agni road project. Following this, heavy security arrangements were made in all the states yesterday.
As many as 500 train services across the country were affected by the blockade yesterday. It has been revealed that the railways have lost millions due to this.
Meanwhile, a satyagraha protest on behalf of the Congress was held at the Jantar Mantar in Delhi against the Agni Path project. Police have taken captive youth Congress volunteers at Shivaji Bridge railway station near Delhi Kanad Place.
Protests by Youth Congress activists in various parts of Delhi caused traffic congestion in various parts of the city.
Traffic impact
Protests against the project took place in the Lal Patti Chowk area of ​​Badogabad in Haryana. The road blockade also affected traffic there. Road blockades took place in various parts of Rohtak district. Similar protests took place in West Bengal, Rajasthan, Kerala and Telangana.
.