Authored by
Veeresh Billa
|
Samayam Telugu
Updated: Sep 7, 2022, 1:12 PM
The Telangana government has declared a holiday on September 9 across the city of Hyderabad to celebrate the immersion of Vinayaka idols.
Highlights:
Holiday on September 9 in Hyderabad
Announcement on the occasion of Vinayaka immersion
Telangana Govt issued Jivo
As Vinayaka Navratri is coming to an end, the Telangana Government is making arrangements for immersion. Especially for Ganesha Immersion in Hyderabad, as it is popular all over the country, arrangements are being made accordingly. Lakhs of devotees flock to see the Khairatabad Maha Ganapati immersion, especially at Hussain Sagar. The controversy over Vinayaka immersion has been going on for a few days and the government has put an end to it. In the wake of the Supreme Court's verdict, the government said that it would not grant permission for the immersion of Lord Ganesha in Hussainsagar. Due to this, the government has backed down and is installing cranes on the tank bund. Everything has been prepared for the Vinayaka Namajjanotsava to be held on the 9th of this month.

On the day of Vinayaka Namazjanam, there is a festive atmosphere all over the city. Due to this, the police impose traffic restrictions in many ways. Due to this there is a possibility that those who go to offices and schools will face serious problems. Keeping this in mind, the Telangana government has declared a holiday on September 9 across the city of Hyderabad. In this regard, a Jio was issued on Wednesday. It has been clarified that the holiday will be valid in the areas of Rangareddy, Medchal-Malkazgiri and Sangareddy districts which fall under the jurisdiction of GHMC along with Hyderabad and Secunderabad cities.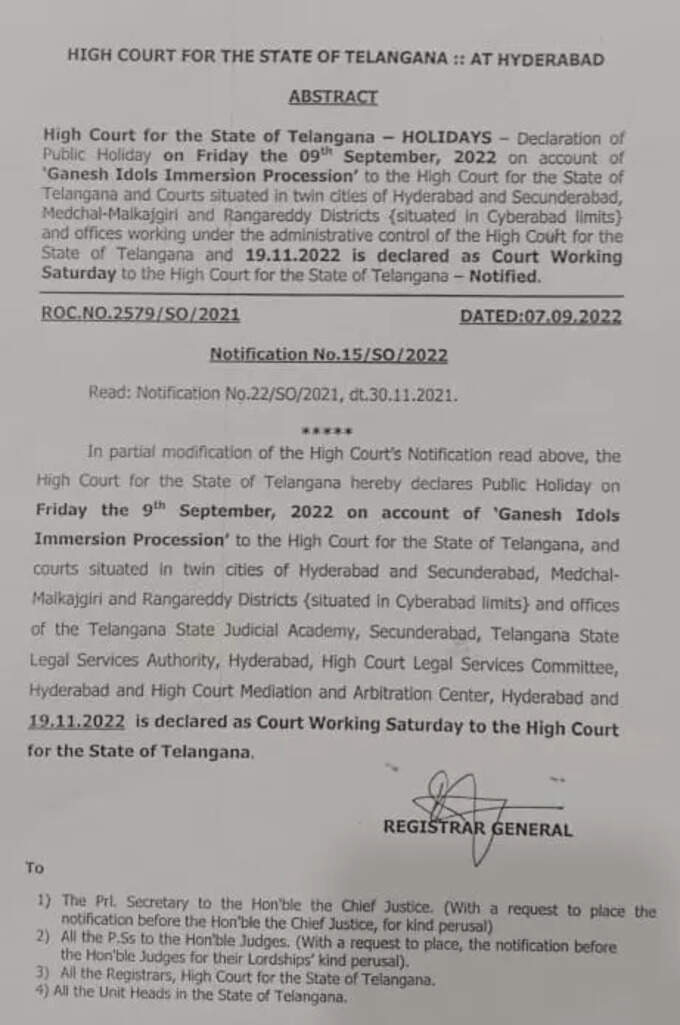 Next story
'Kavitha chelle.. Just answer this'.. Raghunandan's direct question on liquor scam
Telugu News App: Download Telugu Samaam app for latest updates, national, international, education, business, cinema, spiritual, sports, viral stories related to AP, Telangana.