Sydney: Australia declared 475/4 on Day 4 of the rain-affected Sydney Test on Saturday. Cummins declared Usman Khawaja on 195 runs. The South African team, which continued to play, lost wickets to captain Cummins, who bowled brilliantly on this batting pitch, and was in a miserable state at the end of the 4th day at 149/6.
First, if Cummins declares when Khawaja is at 195, it means that Khawaja is also agreeing to it. Is it possible here? They will start making stories that he is jealous of him and that he is fat because he has declared without scoring a double century. But it is the captain's responsibility to create a chance to win as a team, which is why Cummins bowled one of the best fast bowlers in Tests as a captain/pacer as he robbed Khawaja of his double century.
After this, Cummins took 14 more wickets to make a winning chance and a 3-0 whitewash possible. It looks like the South African team will go all out in one cup of coffee. Australia's specialty is to play with confidence that they can win this Test even after 4 sessions have been washed out by rain.
With Heinrich Clausen (2), Kaya Sondo (39) and the in-form Kyle Verena (19) picking up wickets, Cummins produced a brilliant spell and South Africa needed 127 runs to avoid Paulo Aon before losing 6 wickets.
Cummins came round the wicket and bowled brilliantly. He worked out Zondo with short balls and then a brilliant full length ball to LP. Zondo wasted the review unnecessarily. The 7-footer Marco Janssen would have LB soon after, but this time the ball was pitched on the outside line. Likewise Verena came over the stumps and bowled a brilliant length ball to get it out. Edged and caught at slip. Earlier, Cummins dismissed Heinrich Klaasen, who was called up to the South African squad after 2019, with a terrific bouncer. Clausen tried to block the ball with both legs but it was caught by wicketkeeper Alex Carey towards leg.
Scott Boland bowled brilliantly in the first 2 Tests but he was forced to give way when the main bowler Hazlewood arrived. But Hazlewood for his part took the wicket of captain Dean Elgar (15) with another short pitch. Coming round the wicket, Dean Elgar couldn't swing it to the grass and couldn't do anything about it. It turned out to be a series to forget for Elgar. He has scored just 46 runs in 5 innings.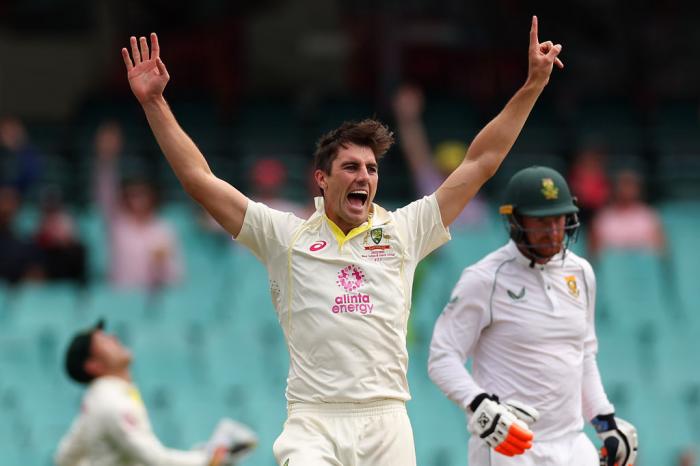 As usual Bauma played well as he scored 35 runs with 2 sixes and a four to leave Hazlewood empty. He was the one who played aggressively, hitting Nathan Lyon for two sixes. But could not stand, such was the Australian aggression. At the end of day 4, Simon Harmer was on 6 runs and Marco Janssen was on 10 runs. South Africa 149/6.
South Africa have to tackle 98 overs on Day 5 on Sunday. As of now, a 3-0 whitewash threatens South Africa.