Tulsi can not deny the word .. as well as going with his son Nandu .. Parandamayya, it is known that Anasuyalu ran away from home. Not knowing where to go .. Parandamayya escapes from Tulsi and arrives at an orphanage and old age home. Prem has already come to the old age home .. He went to tell about their grandparents .. He tells them to call him if they come. However, Parandamayya came to the same orphanage and went to the manager and said, 'I am my wife's orphanage. We have come here for shelter.'
With this the manager .. 'You are lying .. You fled and came here due to riots in the house. Now your grandson came and told me about it .. showed me your photos .. gave me his phone number too. ' With that word Parandamayya .. 'I will punish you .. Do not tell anyone that we have come here .. Do not do injustice to these old survivors .. If you do not give shelter .. We will leave'. Melted by this the manager says .. 'Giving you shelter is not a problem for us .. but being here is not a small thing .. think once'.

Parandamayya .. joined hands and begged the manager to give us shelter and the manager took pity .. agreed to give shelter to Parandamayya.
Madhava slapped by Lasya ..
Madhavi goes to Tulsi's aid to find Parandamayya and Anasuya. No matter how hard they search, they get tired and return home. When are they coming? While sitting and waiting, lasyas .. they are nowhere to be found. When Tulsi tells him that he can not find him no matter how much he searches .. he says he will bring it .. he swears .. he shouts why he did not find it.
Madhavi imagines this .. 'We are still looking .. Why are you shouting at Annayya Vadina when Madhavi says ..' Because plays play .. They hide and play dramas' .. says Lasya.
'I'm talking to our brother, why are you coming in the middle, Lasya ..' said Madhavi .. ' Tell me, players' says Lasya.
With this, Madhavi .. 'I am not sad that your mother is not visible on your face but .. when will Vadina come? Should we stop? Are looking forward to. ' Your day knows where Amma Nanna is .. When Nandu says that he plays plays on purpose .. It makes sense that Lasya speaks stupidly .. Madhavi says when you say that you should also talk like this, Patikellu Kapuram, Lasya gets angry.
In my husband .. Lasya says remembering the past and not hitting sentimental dialogues .. 'Do you also have sentiments ..? Do you think they also merged in the past ..? Says Madhavi. This is not a Tulsi Sanman Sabha .. to compliment her ..? When Lasya says .. 'We have not done anything wrong .. You do not mean words unnecessarily'.
With this .. your word .. she said that she will convince them and send them with me .. Tira says that she has done this now .. with that word Madhavi .. 'Would you go and ask Vadina .. she persuaded them .. even if they do not like you say they will come with you even if they do not believe you Admitted only for Vadina .. Vadina accepted your words out of pity for you .. Will you have to admit and blame? Is this justice Annayya '? Madhavi depresses that.
Tulsi has taken the children away .. Tulsi has poisoned her uncles and aunts Tulsi .. Tulsi has made this house worthless .. Tulsi is the reason for us to leave the house .. Now Nandu is distancing their grandmothers .. Smoking without suffocating and pretending to know nothing .. Chasing us without shame .. Aunty has kidnapped her uncle .. When Ana said that .. Madhavi, who had escaped many times .. could go in a rage and slap Lasya.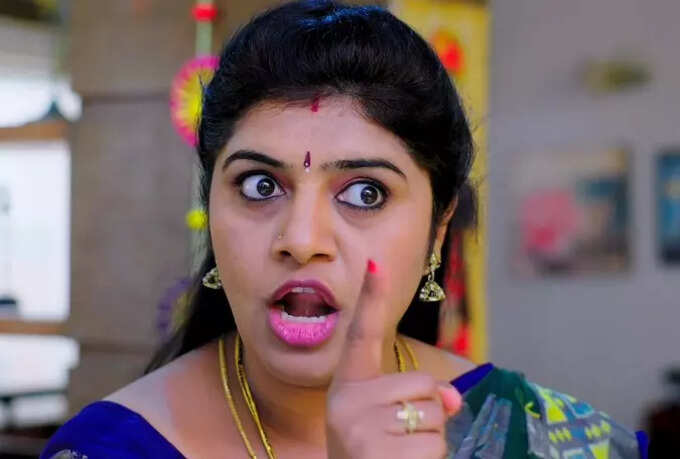 Another word beyond that would be tongue-in-cheek talking about our day.. Madhavi gives a warning to Lasya. 'When Lasya's cheek is valid .. Nandu shouts Madhavi ..' Annayya to talk in the middle .. When Lasya speaks so badly about Vadina, there is no mouth .. Why does Lasya get hit ..? How many words does Lasya say .. Did Tulsi say a single word? Is it enduring .. is it culture .. is it not basil masked for goodness .. lasya .. Guntanakkala next to our elder brother and our elder brother wrapped around your conch .. today is not enough to unravel your history '.
Madhavi did something wrong to me .. Lasya said .. 'I did what I could not do .. You keep your mouth shut .. You left our uncle's house because of you .. If you want to go now Pondi .. And do not blame Vadina .. The reason for this Both of you .. you both made a mistake .. still become a man brother .. not blaming Vadinana for the grandmothers .. put tears for them .. it means love .. the uncles are not near the son .. remember that it may also be near the daughter, lasyalni Madhavi washes away.
Next article
Krishna Bhagavan who has been on the screen for many years .. is no longer buzzing on the television screen
.