Abdul Razzaq Hamdallah, Al Ittihad Jeddah striker, hopes to open his scoring record with his new team, in the first match he is expected to play against Al-Raed, on Friday evening, in the 17th week of the Mohammed bin Salman Professional Cup League.
The Al-Raed net is Hamdallah's favorite, as Al-Raed is the team that has received the most goals from the Moroccan striker, "12 goals" throughout his professional career with various clubs.
On Wednesday, the Jeddah Federation announced that it had received the approval of the Professionalism and Player Conditions Committee in the Saudi Football Association, to register its new striker, after the club obtained a certificate of financial competence.
Hamdallah, 31, joined the western team recently in a free transfer deal, after playing with Al-Nasr from 2018-2019 until last November, when the Al-Asimi club announced the termination of his contract for reasons he described as legitimate.
Hamdallah scored 12 goals against Al-Raed in 7 matches, including a "super hat-trick" and also a "triple".
The Moroccan striker's first confrontation was against Al-Raed in his first season with Al-Nasr, in the 13th round, and he made his mark with 4 goals, before scoring a "hat-trick" in the face of the second round.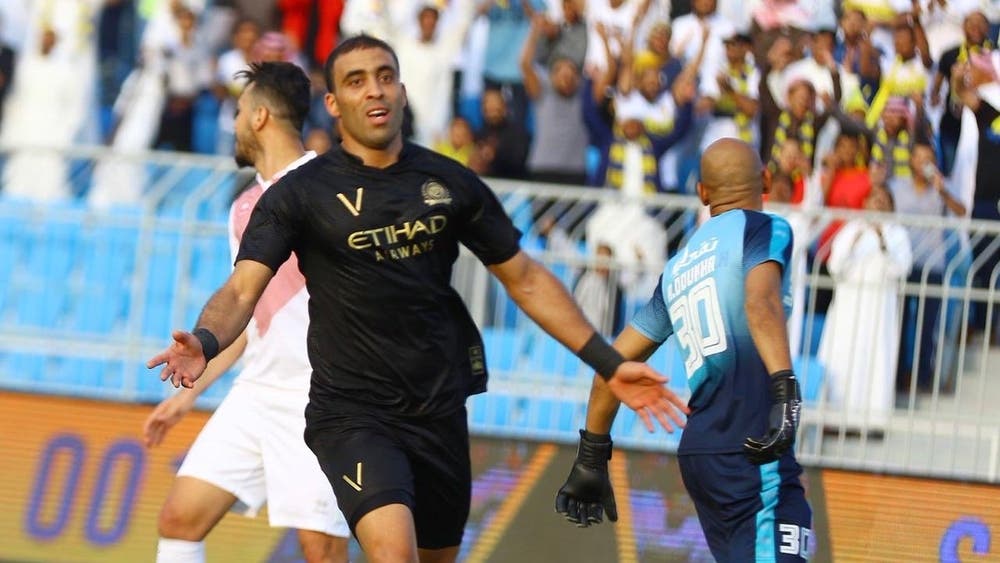 In the following season, Hamdallah scored a goal in the first round meeting, and two goals in the second stage, but he missed the first round encounter in the 2020-2021 season due to injury, and then set two goals again in the nets of Al-Raed in the second round.
But the Moroccan top scorer was unable to score any goal in his last two matches against Al-Raed, both in the current version of the league within the 12th week, and also during the King's Cup match.
On Friday, it will be the eighth confrontation of Hamdallah against Al-Raed if he participates officially for the first time in the Jeddah Union shirt.