I wish West Bengal Chief Minister Mamata Banerjee a speedy recovery. At the same time, the Union Home Minister asked if Mamata felt the pain of the BJP family killed by the Trinamool Congress. Amit Shah Has raised the question.
Legislative elections are to be held in 8 phases for 294 constituencies in West Bengal. The first phase of elections will be held on the 27th. The ruling Trinamool Congress and the opposition BJP are actively campaigning for this.
Home Minister in support of BJP candidates in Rani Bandh in Bankura district Amit Shah He was involved in the election campaign today.
Then he said:
"If the BJP comes to power in West Bengal, I promise that we will definitely implement the 7th Pay Commission for the benefit of civil servants.
When Didi (Mamta) injured your leg, you feel pain. Congratulations on your injury heal quickly. But 130 BJP volunteers were killed by your Trinamool Congress thugs, have you felt the feelings, pain and suffering of the mothers of those 130 BJP volunteers? Have you made any effort to feel that pain?
You will never feel the pain suffered by the families of BJP volunteers. Of course they will vote against you in the election and give you the right response.
If the BJP comes to power, the rights of the tribals in the state will be protected. The Trinamool Congress is also asking the commission to issue a tribal certificate. But we promise that the rights of the tribes will be upheld. The focus will be on their education, health and drinking water. We have stated this in our election manifesto. "
Thus Amit Shah Said.
Earlier, this morning in Jargram Amit Shah Involved in the election campaign.
Then he spoke:
"West Bengal was once the head of state of the nation. Many educated, freedom fighters and religious leaders originated from here. But, this same West Bengal today has become a thug-making state.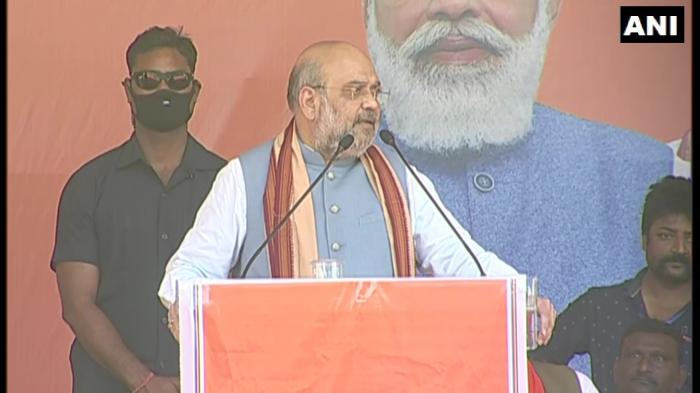 The state is 10 years behind Mamata's rule. Corruption, political violence, secession, Hindus, Scheduled Castes and Indigenous peoples have to seek permission from the courts to celebrate their festivals.
The Pandit Raghunath Murmu Tribal University will be set up in Jharkhand and will create various opportunities for tribal students. If tribal students score 70 percent in the 12th grade, their scholarship will be raised to 50 percent. Rs 100 crore will be allocated for the upliftment of the tribal community under the Stand Up India program.
Thus Amit Shah Said.
.