"Mitra Sharma, who is emerging as a successful woman by helping many people by excelling in the film and business sectors, today set up a production house and has reached the stage of producing films. We, the boys, are afraid and will back off, "said Hero Karthikeya. Youthful entertainer 'Boys', produced by Mitra Sharma, introduces Dayanand as the director along with Mitra Sharma and Geetanand under the banner of Shree Pictures. 'Boys Will Be Boys' is the tag line.
The first look poster release ceremony of the film was held at Dasapalla Hotel in Hyderabad. Hero Karthikeyan, who was the chief guest at the event, has released the 'Boys' first look poster. Suchir India Kiran, Kala Mandir Kalyan released Sri Pictures posters and logos.
'Srikaram' Twitter Review: Emotional Ride .. Toy Flour!
Hero Karthikeyan, who was the chief guest on the occasion, said, "I heard about this movie and Mitra while I was in my movie shoot. I was shocked to hear that she was producing a movie starring as the heroine in the movie 'Boys'. Because they mostly produce movies with him as the hero. The title of this movie is very catchy as he is taking a very daring step. The film should have been such a big hit as the 'Boys' movie made by Shankar at that time. I sincerely want this banner to stand up to the big banners in the industry right now and make big movies, "he said.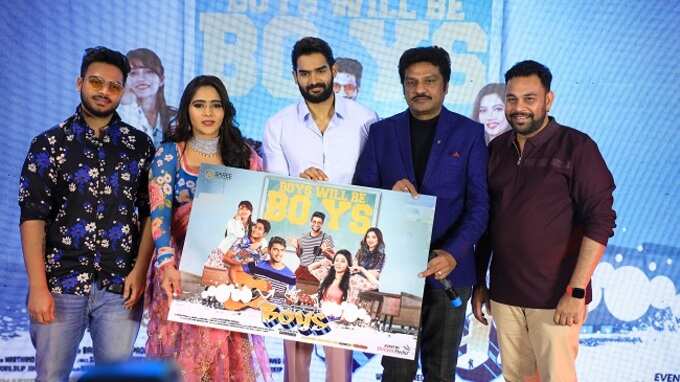 The heroine of the film, producer Mitra Sharma said .. " There seems to be a player behind a successful man. But I have a good team behind me to support me. Coming into the industry in 2014, I acted in a lot of movies. Later I started my own 'Facility Management Services' business. Our life has changed with the good boom for our business in the IPL which came in 2018. We starred in 'As Tag Boys' in 2019. I didn't want to put up my own production but time came together for us to do so. After that director Dayanand heard a new story with a good concept even though it was small. I like the story he told and the way he told it very confidently and I am making this film for him. We completed this movie on a single schedule with the support of all the Aristocrats. The film must be a success, "he said.

'Jatiratnalu' Twitter Review: Funful Entertainer .. Naveen Killed!
The film stars Ronit, Anshula, Srihan, Jenny, Sujit Bunny, Banchik Bablu and Abhilash in the lead roles. Smaran composed the music. Venkata Prasad provided the cinematography. Mrs. provided the lyrics. Marthand K Venkatesh was in charge of editing.
.