Several optical illusion images have been making waves on social media in recent times. It takes not only eyes but also a little intellect to find the answer in such pictures. The eyes are the most important of the five senses. It is very important that the brain analyzes and understands what the eyes are showing. The main purpose of optical illusion is to confuse the eyes and the intellect alike.

If you would like to find the answer to such pictures, here is another picture. People are now confusing the image of a giant elephant. This is because there are not only elephants in the picture but also some other creatures. Elephants, dogs, cats and donkeys can be easily spotted at a glance. But in addition to this, the problem is to find and identify very small creatures that are designed to be hidden as part of the elephant's body.

No one can agree on the exact number of creatures shown in the picture. Some individuals see six, others a few more.

What if we told you that there are 16 creatures hidden in the picture? Yes, sixteen!

Also read: Crocodile leaping to attack; Pub owner escapes head-on, video goes viral

These 16 animals are marked by a user graphically illustrated. From the dolphin on the trunk of the elephant to the snake on the tail are very accurately marked.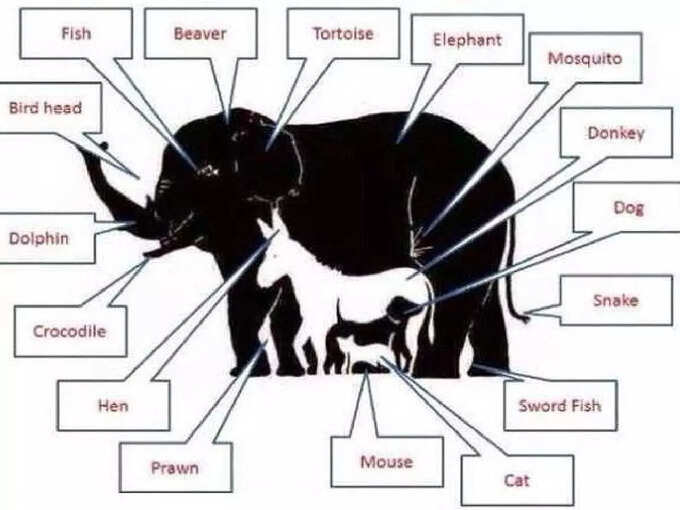 It's amazing to see, but if you look closely, you can see all these animals. The animals in the picture are elephant, dog, water dog, fish, mosquito, donkey, crocodile, swordfish, prawn, chicken, tortoise, shrimp, rat, snake, dolphin and cat. A few days ago, Optical Illusion created a wave on social media to find out how many tigers there are in an image.
Also watch
Super Shea Island in Finland with no male access
.