Trivandrum: Smriti Irani, who defeated Rahul Gandhi in the Congress stronghold of Amethi in the last Lok Sabha elections, is touring Wayanad constituency today. Smriti Irani's tour of Wayanad has led to speculation that she may run against Rahul Gandhi as the BJP's candidate in the 2024 Lok Sabha elections.
Rahul Gandhi is a three-time MP from Amethi constituency in Uttar Pradesh. In the 2019 Lok Sabha elections, he contested from two constituencies, Amethi and Wayanad in Kerala. However, BJP's Smriti Irani, who contested against him in Amethi constituency, won. He defeated Rahul Gandhi by a margin of 55,000 votes. This came as a great shock to Congress. Smriti Irani is currently the Union Minister.
In this context, Union Minister Smriti Irani is touring Wayanad, the parliamentary constituency of Congress President Rahul Gandhi. During this visit he is exploring development projects in Wayanad.
Tweet in Malayalam
In this connection, Smriti Irani tweeted in Malayalam in a post posted on her Twitter page last night. In it he says:
Hello Wayanad! I will be there soon to attend meetings and other public events related to the development of the district. See you tomorrow!
– Smriti Z Irani (smritiirani) May 2, 2022
" Hello Wayanad! I attend district development meetings and other public events. See you tomorrow! "
During Smriti Irani's visit to Wayanad, he attends a meeting at the district administration office. In it he asks about the activities of the federal funded programs. Following this, he meets with people, including tribal leaders. Wayanad is the most populous and tribal area in Kerala.
Kerala BJP leaders have said that Smriti Irani will discuss in detail the backwardness of Wayanad and various projects of the central government at the meeting to be held there.
With the arrival of Smriti Irani, it has been reported that the BJP leadership is planning to wreak havoc in Wayanad as Rahul Gandhi did in the Congress stronghold of Amethi in 2019.
Competition in Wayanad?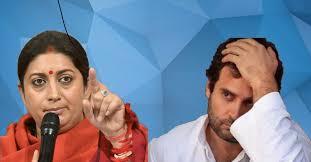 With Rahul Gandhi most likely to contest again in Wayanad in the 2024 Lok Sabha elections, it seems likely that Smriti Irani will be fielded on behalf of the BJP against him. There are speculations that Smriti Irani's trip to Wayanad is a preview for that.
There are 20 Lok Sabha constituencies in Kerala. The Congress party won 15 seats in the last Lok Sabha election. In the Wayanad constituency, Rahul Gandhi, who contested against the Communist Party of India candidate BP Suneer, won.
Rahul Gandhi won with 66 per cent of the registered votes. BJP-led National Democratic Alliance candidate Tushar Vellapalli received less than 7 percent of the vote. With Rahul Gandhi contesting in Wayanad, the Congress also had a chance to win more seats in Kerala.
.