Abhay Naveen became popular with imitation videos on YouTube and after that he worked hard to get film opportunities and proved himself as an actor. This lad from Siddipet, who made his debut on the silver screen with the movie 'Pelli Chuplu', is getting successive opportunities even if he is not flying like a rocket. Abhay Naveen, who acted as a character artist till now, is now being introduced as a hero. Abhay Naveen is being introduced as a hero, writer and director through the movie 'Ramanna Youth'.

A hilarious political drama set in a rural setting, the film is produced by Firefly Arts. The movie 'Ramanna Youth' is getting ready for release on 15th of this month. Abhay is currently busy promoting his film. In this order, the latest trailer of 'Ramanna Youth' was released by the hands of hero Siddharth. Hero Siddharth said that the trailer of the movie 'Ramanna Youth' made in the village backdrop is good. He wished the film crew.

On this occasion, Siddharth said.. 'Ramanna Youth title is catchy. Abhay is my favorite young actor. I was impressed by Abhay's acting in Tarun Bhaskar's short film. Talk to Tarun on the phone. He said Abhay has a good actor and writer. Later, Abhay played a key role in my film 'Chinna'. In this movie, instead of a story, he has screened the experiences of the village that he has seen in life. I saw the trailer and it was fun. Also behind the fun there is an emotion. Youth must win everywhere. The movie is hitting theaters next week. Ramanna Youth should win in theater as well. I will watch this movie in the theater. I want to see you. Because I came into the industry at such a young age. I request to anchor such young talent', he said.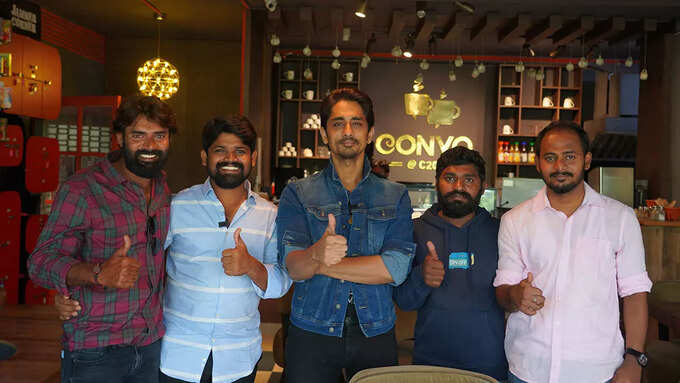 Abhay Naveen said.. 'Thank you to hero Siddharth for releasing the trailer of our movie. The movie impressively shows how the efforts of a young man named Raju to become a political leader in a village changed his life. It is a political entertainer set in a village back drop. We are bringing you Ramanna Youth movie on 15th of this month. We hope you will like the movie as well as the trailer,' he revealed.
Meanwhile, Anil Geela, Srikanth Iyengar, Thagubothu Ramesh, Jabardast Rohini, Yadamma Raju, Taxiwala Vishnu, Amulya Reddy, Kommidi Vishweshwar Reddy, Jagan Yogiraju, Bunny Abhiran, Manya Bhaskar and Venu Polasani played important roles in this movie. Composed by Kamran, the film has cinematography by Fahad Abdul Majeed. Editing by Rupak Ronald Son and Abhay Naveen.