Highlights:
'Chavu Kaburu Challaga' to be released on March 19
Karthikeyan in a diverse role
The hero impressed with obedience at the press meet
Growing up, adults want to be nurtured. Right now the hero Karthikeyan is following the same. Karthikeyan, who got stardom with his first film after being introduced as a hero with 'RX 100', is busy with a series of films. Proved himself as an actor. Yet he did not display pride. He says he still has a long way to go. Being very polite to everyone. The participants appear obedient in every event. Karthikeyan's words were also very obedient at the latest 'Chavu Kaburu Challaga' press meet.
'Tuk Jagdish' Teaser: Nani Fighting With Old Legs .. A Festive Movie
Karthikeyan's upcoming movie 'Chavu Kaburu Challaga' will be released under the banner of GA2 Pictures, which has produced super hit films like 'Bhale Bhale Magadivoy' and 'Geeta Govindam'. Allu Arvind is presenting the film. Bunny Vasu is the producer. Kaushik Pegallapati is getting acquainted with the film as a director. Lavanya Tripathi opposite Karthikeyan played the heroine. Music is composed by Jacques Bezoy. The song 'Kadile Kallanadiga' from the movie was released in the presence of the media on Tuesday. The event was attended by heroines Karthikeya, Lavanya Tripathi, director Kaushik and producer Bunny Vasu.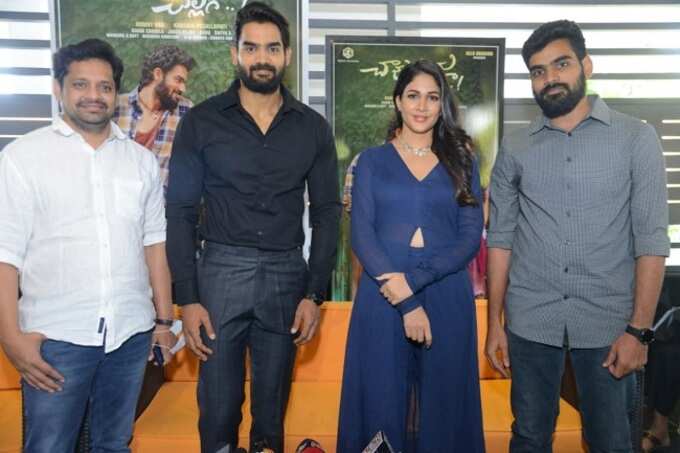 Speaking on the occasion, Karthikeyan said, "Actors are confident in every film. But, if a movie is good, the people we encounter will tell us about that movie before we say it. I was told this for the movie 'RX 100' .. Again now they are saying this movie. I now understand that people say this if the movie is good. It is my good fortune to make this film .. I can not say more than that. It would be very wrong to say that I chose this movie. Great script written by Geeta Arts, Arvind, Vasu, Kaushik .. There is no scene where I have chosen them. They chose me.
If acting is a height in the movies I have done so far .. another height in this movie. Is very diverse. I do not know what Kaushik saw and selected in me. If not I struggled with that pressure. New accent, character style, free style body language I did it all for the first time. Slightly frightened when. If not, Arvind and Vasu told me to be brave. Arvind got a lot of courage when he called and spoke yesterday. It seemed that it would work if he said he did very well.
Kaushik Thanks means it becomes a very short word. Because, all this became possible because of him. He told Arvind Gari and Vasu Gari that it would be good if I did this movie. I did what he told me to do. I did nothing new. When the story was told, I thought in my mind .. I have not done it with a big heroine till now, who will be put. But, did not ask out. Kaushik said it would be nice to have Lavanya Tripathi one day later. Law .. I thought to myself why not put. Didn't ask if your face was called Elegance Covalentra. Later Lavanya Tripathi became the heroine .. all the same, it seemed that we had become a hero " he said very openly.
'Death is cold ..!' Song: Antonna Karthikeya as the moving season
.