Former Mahila Congress leader shaves his head in front of the Congress office in frustration of not being given a seat in the Ettumanoor constituency in the Kottayam district of Kerala. Latika Subhash He will compete independently, according to reports.
Away from Congress, Latika Subhash If he contests in Ettumanoor constituency independently, it will definitely affect the chances of victory of the Congress party. However, the Ettumanoor constituency was not handed over to the Congress party. Kerala Congress (Joseph) is assigned to the party. Prince Lucas is running on behalf of that party.
Elections to the 140 Assembly constituencies in Kerala will be held on April 6 in a single phase. The Congress party is contesting 91 seats. The Congress party announced 86 candidates for the first phase yesterday. Of these, only 10 were female candidates.
Former Mahila Congress leader Lathika Subhash was expected to get a seat in the Ettumanoor constituency in Kottayam district. But as he was denied the seat, he sat in front of the Congress state headquarters yesterday and shaved his head in protest.
Latika Subhash's action was a great insult to the Congress party as the internal turmoil in the Congress party was already raging in Kerala.
in this situation, Latika Subhash In an interview today, he said, "I am going to make a decisive decision. After consulting with my supporters and well-wishers, I will announce what the decision will be. I will not join any other party. It is not possible to say anything now."
But, Latika Subhash He has decided to contest as an independent in Ettumanoor constituency. Earlier, sources close to him said that he was stepping down as a member of the Congress party.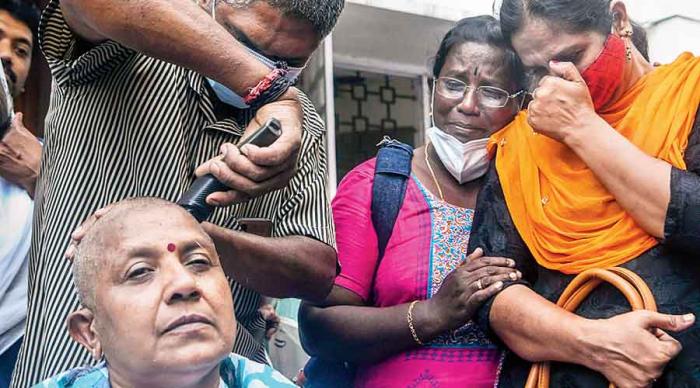 In Ettumanoor constituency, the Congress party is not contesting, although the Coalition Party is contesting. Latika Subhash There is no doubt that the chances of victory of the Congress party will be severely affected if it contests independently.
Former Chief Minister Oommen Chandy said today " Latika Subhash There is no change in the decision. The Ettumanoor constituency has been allotted to the Coalition Party. Therefore, there is no room for talk of him being re-elected. "
As a result, the victory percentage of the Congress party in Kottayam district has been affected.
.