Thiruvananthapuram: India won the 3rd and final ODI against Sri Lanka by 317 runs. Virat Kohli and Subman Gill scored centuries in batting for the Indian team. In bowling, Siraj bowled tremendously and was amazing.
The Sri Lankan cricket team toured India and played a 3-match T20I and ODI series. The final match of the ODI series was played on Sunday (January 15) at the Cricket Ground in Thiruvananthapuram, Kerala.
In this match, the Indian team won the toss and elected to bat. Captain Rohit and Gill opened the innings for the Indian team. Rohit was out for 42 runs. The Indian team put together a partnership of 95 runs for the first wicket. Gill then put on a partnership of 131 runs with Kohli. He was dismissed for 116 off 97 balls.
Kohli on the other hand scored 166 runs off 110 balls without getting out till the end. It included 13 fours and 8 sixes. India scored 390 runs for the loss of 5 wickets at the end of 50 overs. Sri Lanka chased down the target of 391 runs.
The team lost wickets at regular intervals. Sri Lanka surrendered to India losing all their wickets by scoring just 73 runs in 22 overs. India won by 317 runs.
Mohammad Siraj bowled 10 overs for the Indian team, giving only 32 runs and taking 4 wickets. This includes a maiden over. Shami and Kuldeep Yadav took 2 wickets each. Sri Lankan player Karunaratne is run out. Bhandara retired Hurt without coming to bat.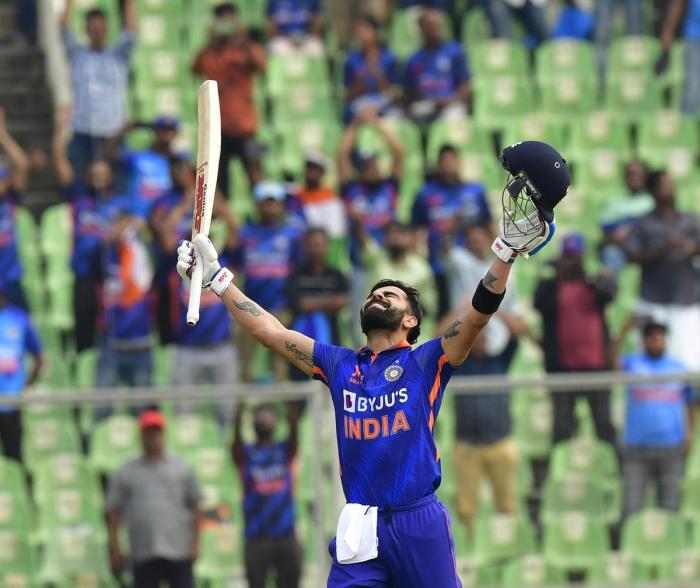 With this win, India became the first team to win by 300+ runs in ODIs. Kohli won the man of the match award and the man of the series award in this match. He has scored 2 centuries in this series.