Last Updated: 24 May, 2022 04:57 AM
Published: 24 May 2022 04:57 AM
Last Updated: 24 May 2022 04:57 AM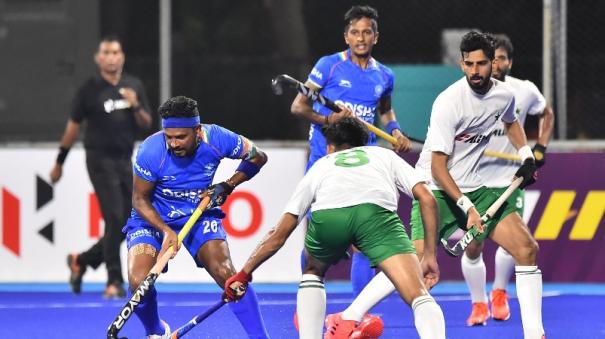 Jakarta: The match between India and Pakistan in the Asian Cup Hockey for Men ended in a draw.
India played their first match against Pakistan in the series which started yesterday in Jakarta, Indonesia. Debutant Selvam Karthi took advantage of a penalty corner in the 9th minute to score. The Indian team took a 1-0 lead with a goal scored by Selvam Karthi from Ariyalur, Tamil Nadu.
Attempts by both teams to score after this did not pay off. Both teams failed to convert penalty corner chances into goals. Pakistan's Rana Rana scored just one minute before the end of the match.
Thus the game reached equilibrium. Despite the efforts of the Indian team to retaliate, it was not possible. The match ended in a 1-1 draw. The Indian team clashes with Japan today in its 2nd match.
.