Last Updated: 11 May, 2022 05:50 AM
Published: 11 May 2022 05:50 AM
Last Updated: 11 May 2022 05:50 AM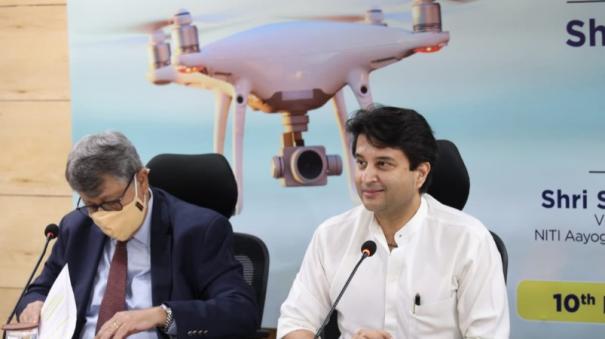 New Delhi: India will need one lakh unmanned aerial vehicles (drones) pilots in the coming years, said Union Aviation Minister Jyotir Aditya Scindia.
The federal government is taking three steps to increase the use of drones. The first is to lay down simple principles and implement them quickly. Appropriate promotional measures will be taken to increase the use of the 2nd drone. The third is to increase the demand for it.
He was speaking at a meeting of the Finance Commission. Measures have been taken to increase production through this. Steps are also being taken to produce drones.
The PLI scheme was launched in September last year. Following this, the Ministry of Civil Aviation issued simple policies to increase the production of drones domestically. Currently, even those who have passed the Plus 2 can train as a drone pilot and operate it. This does not require a college degree. After two or three months of training, you will definitely get a job with a salary of Rs. 30,000 per month. There is a demand for 1 lakh drone pilots in the next three years. Thus stated the Minister.
Where used
The rules and guidelines for flying drones were issued by the Federal Ministry of Civil Aviation last year. Accordingly, drones carrying parcels weighing less than 250 grams do not need to be licensed. Apart from delivering parcels by drones, drones can also be used to spray pesticides and photograph fields and to monitor dense forest areas.
.