Inflation has meant that for many this is a summer of sandwiches on the beach. The rise in prices has reached the beach bar table. The figure on the ticket is larger, mainly for three reasons: one, the increase in food is still in double digits; two, tourist occupancy is being high on practically the entire coast, and three, part of the leisure and tourism companies have taken advantage of the boom to raise prices and recover part of the losses that put their businesses on the ropes during the pandemic.
EL PAÍS has visited some beach bars in Barcelona, ​​Valencia and Malaga to see if prices have increased and find out the reasons. And he has done so by examining the price of several of the most requested products in a beach bar: beer, squid or sardines. Everyone agrees: the raw materials they use have skyrocketed. It is supported by the National Institute of Statistics (INE): blonde beer is 13.5% more expensive than last year, and non-alcoholic beer is 10.7%. If you want to opt for an artisan, the bill already increases by 17%. Food is also more expensive. The INE places special emphasis on one of the essential ingredients in a beach bar: olive oil. It's up almost 40% from last year.
The cuttlefish was about to leave the menu at Mares, a beachfront beach bar on the border of the municipalities of Benicàssim and Castellón. "She is very expensive," laments the manager of the establishment, Martín Robles. However, in the end he decided to keep it because it is one of the most requested starters. It continues, but for four euros more than what was paid last year. Inflation has meant an increase of between 15% and 20% in purchase prices for this location, located in a privileged corner where the sea breeze flows and just 20 meters from the sand. "It has been noticed, above all, in the food," says Robles, who explains that agreements are closed with beverage suppliers, even biannual, with which they can sustain prices. Thus, draft beer is served for the same 2.5 euros as last year.
The formulas with which this rise has affected customers has been varied: in some products they have increased the price, without further ado, such as cuttlefish which, in any case, is served in a portion generous enough to share; in others, it was barely raised between 50 cents and one euro, but the amount has been reduced a little; others, such as some flamenquines purchased in Andalusia that served directly last year, have stopped being offered. In addition, they have looked for other ways to support prices and, for example, now make the sauce themselves. kimchi with which they serve the distinctive patatas bravas, battered as well as quicos, when they used to buy it.
"It's not just the products that have increased, services such as electricity have also increased a lot, which, for us, is essential due to the refrigeration and freezing chambers," says Robles. However, among all the increases, this hotelier highlights two: those of the stock markets snacks singles and ice creams. He almost blushes at the retail price but explains that it is impossible to offer them cheaper.
In 1975, Jesús Jiménez's father suffered a work accident. With the money he received, he built a small kitchen in a small house on the beachfront of the El Palo neighborhood in Malaga. This is how El Zagal was born, one of the most traditional beach bars in the city where these days the activity is "very intense". "There are fewer people on the beach than last year, but we are working more," says Jiménez. On his menu, practically all the dishes have increased their price by 50 cents compared to last year, although there are others that have increased their price by 90 cents, such as lemon anchovies. "The oil, the cereals, the flour… everything is more expensive", he excuses himself. Jiménez says with surprise that the clientele spends more easily this year when they sit at their tables spread out along the promenade, near the hammocks that the business also manages. "There are more people who ask for bottles of wine or grilled fish and the bills are bigger," he points out.
The spit competition
Manuel Villafaina, president of the Malaga Beach Entrepreneurs Association, states that the increase in prices represents between 8% and 11% compared to last year. "Everything has gone up a lot: electricity, gas, raw materials… everything," emphasizes the businessman, who believes that the average ticket per person is between 20 and 30 euros on the Costa del Sol this summer, while in 2022 it will vary between 25 and 40 euros. "Last year there was more joy in spending, people are more restrained," says Villafaina, who believes that the drop in spending is compensated by the large number of tourists on the Costa del Sol. "There are a lot of people," he emphasizes. And the beach bars are one of his favorite destinations.
In El Zagal the beer costs two euros – compared to 1.80 in the summer of 2022 – and the sardine skewer has lowered its price: 4 to 3.50 euros. It is a very local phenomenon in this area of ​​El Palo and Pedregalejo: this grilled fish serves as an attraction and the restaurants compete with each other in price. This is what the Merlo beach bar offers, where any summer day there is a line to sit at one of its tables. "This doesn't stop," says his espetero, Iván, sweating profusely from the heat and the embers in front of a dozen rods full of sardines. In the rest of the city, the average price varies around five or six euros, although in places like Trocadero Casa de Botes, the espeto reaches 15 euros.
At eight—with ten beautiful sardines—they sell like hotcakes at the La Mar Bonita restaurant, on La Carihuela beach, in Torremolinos. It is the only product that has maintained the price compared to last year in this beach bar with six years of history, tables in the sand and a Repsol Solete. Miguel León, its owner, awarded as the best espetero in Malaga in 2019 and 2021, explains that the rest of the dishes have risen between 50 cents – such as fries, from 6 euros in 2022 to 6.5 euros in 2023) or a euro, such as fried calamari – from 14 to 15 euros – and grilled sea bass – from 22 to 23 euros. The beer cane has gone from 2.20 to 2.50.
"The regular clientele rarely comments on the increase, but we had to adjust to the increase in raw materials," says León, who points out that there are reviews on the Internet that talk about the restaurant for its good product and service, but with the tagline. ending of "too expensive". León also highlights that the sector expected more tourists in July and that August is not developing as expected either. "Perhaps the increase in prices and the issue of mortgages, which have also increased, have an influence," says the restaurateur, who highlights that he also finds a new clientele that arrives fleeing the prices of Marbella. There the espetos vary greatly in price depending on the area, but they are around 12 or 13 euros, according to the menus of beach bars such as Kala Kalua or Playa Nini.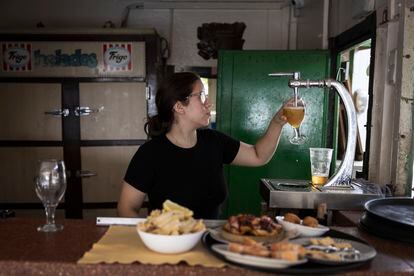 Looking for offers
Silvia Capo has been running Baños Virgen del Carmen for more than 20 years, in honor of the patron saint of the sea. She is the third generation in charge of this family beach bar created in 1928 on the Montgat coast, a town of 12,000 inhabitants north of Barcelona. She affirms that the prices of her letter have "nothing to do" with those of 2019 and much less since the war in Ukraine began. "The last few summers have been brutal," explains Capo, who has been surveying her suppliers since January before the season begins (April to September). She assures that she looks at offers more than ever to get possible discounts and maintain the prices of her letter compared to last year, without diminishing the quality of her products: "I have to play with the margins and see where I stretch from. I look for a lot of life day by day, but I don't want to bleed people on the beach. People really want to go out and disconnect. It is a continuous battle that wears a lot".
Among its wide range of sandwiches, salads and tapas, one of its priorities is to keep the accompanying beer (1.30 euros) affordable. For its fried vegetables and fish, its sunflower oil has grown by approximately 26% compared to 2022 (from 1.70 euros per liter to 2.30). For his patatas bravas (4.70 euros), for example, he uses a special sour variety for frying, with an average annual increase of 25% as well (from 0.90 cents per kilo to 1.20). Its grilled sardines with garlic and parsley, one of the stars of its menu (8.50), have a specific supplier that brings them fresh every day "to the door of the house", caught in nearby towns such as Arenys de Mar He admits that this entails a somewhat higher price than the market price, but even so, he has also noticed a 20% higher annual cost (from about 6.5 euros per kilo in 2022 to 8), but insists that it depends a lot on times like in Sant Joan. In his Andalusian-style squid (8.10) he has noticed a similar proportion, although not so much in the flours to coat them.
On the same Montgat beach, the person in charge of the Takuara beach bar, Georgina Grau, tells how the increase in various raw materials such as oil and fish has also suffered. If last year her Roman-style squid cost 9 euros on her menu, this summer it has increased by 36% (up to 14). The glass of beer has also been affected to a lesser extent: it has gone from 2.50 euros to 2.80 (10% more). She indicates that one of the few products that they have been able to maintain has been the bravas, at 6.90 euros: "We already had to raise them last year. But we cannot change it because it is an essential classic of our menu," explains Grau.
In the same town, the manager of the Emporium, Juan Schwemm, admits that in the last year "everything went up in general." He also points to other aspects beyond raw materials, such as stationery and napkin consumables, with an average increase of 10%. They have kept the same price for their glass of beer (2.9 euros) thanks to the fact that they are a hotel group with several venues that can negotiate good prices. However, they have increased the price of their Andalusian squid from 12 to 13.2 euros (10%), and that of their Maresme sardines from 11.6 to 12 euros. The brave ones have been able to resist inflation, at 7.8 euros, despite the fact that they use "a lot of oil."
Follow all the information Economy and Business in Facebook and Twitteror in our weekly newsletter
.
., ..
RECEIVE IT IN YOUR EMAIL