Cochin: PM Modi has said that INS Vikrant is a testimony of India's hard work. Prime Minister Narendra Modi today dedicated the first indigenously built aircraft carrier INS Vikrant to the nation at the Kochi Shipyard. He also introduced a newly designed naval flag.
Then the Prime Minister spoke:
Today every Indian is witnessing the dawning of a new future along the shores of Kerala. INS Vikrant is the biggest. Huge. Today India has joined the list of countries that are building large warships indigenously. A new hope has been set for the country. Every component of INS Vikrant is made in India.
Indian resources, Indian technology, developed by Indian talent. On that day in history Chhatrapati Shivaji Maharaj built a ship. The British feared the power of Indian ships. They created various obstacles to the trade of Indian ships. INS Vikrant is the answer to endless challenges.
Prime Minister Modi spoke thus.
New flag: In the new naval ensign, the red bands designed during the British rule have been removed. It is replaced by the national flag, the Ashoka symbol and the anchor. It is noteworthy that the naval flag has been changed for the 4th time since 1950 till now.
History of INS Vikrant: The Indian Navy already had an aircraft carrier named INS Vikrant. Purchased from England, this ship served in the Indian Navy from 1961 to 1997. The ship played an important role in the 1971 Pakistan war. INS Vikrant was a museum from 2002 to 2012 after decommissioning. The ship was scrapped in 2014-15 after falling into disrepair.
Subsequently, it was decided to add a new aircraft carrier of the same name to the Indian Navy. Accordingly, such a vessel was manufactured locally. This new warship INS Vikrant was launched in 2013. The vessel was recently handed over to the Navy as all work was completed.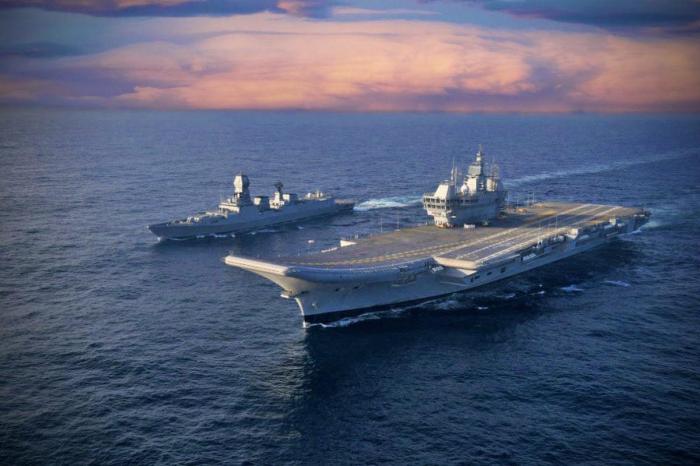 At a cost of Rs 20,000 crore, the new warship, designed by the Navy's Warship Design Wing and manufactured at the Kochi Shipyard, has many modern automated features. Products from more than 100 Indian MSMEs are on board.