Last Updated: 12 May, 2022 07:42 AM
Published: 12 May 2022 07:42 AM
Last Updated: 12 May 2022 07:42 AM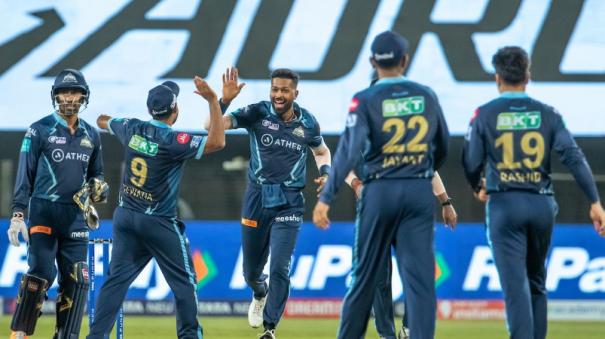 Mumbai: The Gujarat Titans, led by Hardik Pandya, made their debut in the IPL T20 cricket series this season but have advanced to the play – offs as the first team with two league games remaining. Gujarat, who won the match against Lucknow Super Giants by 62 runs yesterday, dominate the points table with 18 points.
Gujarat were bowled out for 82 by Rashid Khan, Sai Kishore and Yash Dayal.
After the IPL auction held last February, people were pointing out the Gujarat team's batting. The batting line-up was seen as weak, though the delivery seemed to be better lined up. Because of David Miller's lack of runs last season, Schumann Kill's form was considered worrisome.
And Rahul Devatia did not attract much attention after the innings which had a big impact on Sharjah. People did not see Hardik Pandya playing until he came into the match with a high batting level and refreshing delivery. After all many criticisms arose as young players with no experience playing for the Indian team were bought.
The Gujarat team led by Hardik Pandya has entered the play-off round by turning all these into victory stones. Debutants Gujarat now have two chances to advance to the final.
Captain Hardik Pandya said, "We started this journey together. Then we relied on our team. We trusted ourselves. With 2 games left in the league round we have qualified for the playoffs. This is a great effort and we are proud to think of it. "
.