CSK failed to qualify for the play-offs after losing to Kolkata in the last league match in Chennai. Also, there is a problem with CSK finishing in the top two spots.
Varun Chakraborty and Sunil Narine both bowled over CSK as CSK finished at 144/6. But Deepak Sahar's bad balls bowled worse than that as Jason Roy, Gurbaz and Venkatesh Iyer were bowled out and Kolkata lost 3 wickets for 33 runs inside the play as if we could not take this target and lose.
But after that, Nitish Rana and Ringu Singh combined to score 99 runs in 12 overs and the Kolkata team won easily. Again Ringu Singh emerged as a finisher and Nitish Rana played a superb captain's innings. All our questions, Nitish Rana stepped in as a captain and took charge as per his leadership style and captain Nitish Rana led the way to victory from 33/3.
But it has been years since Dhoni acted as a captain standing in front of the field. What is the point of going down to the 8th level? He could have stepped forward and stood at one end to lead the others. Acting as a manager and supervisor on the field is different from captaincy. The pace of the captaincy and his participation in the team, even wicket-keeping, shows that his reflexes are running out. He still plays only for commercial reasons. It seems that he is retired and not in his own hands.
While giving an interview he says that victory is possible only if CSK scores 180 runs considering the snowfall, why is this thinking not about getting ahead? If Dhoni was there when a Dube could come down and hit a boundary on this tricky pitch, wouldn't his experience and his presence have given the Kolkata bowlers a scare? Don't you know all this? But it seems that he has narrowed down his role as a manager and supervisor, yielding to the pleas of the fans and finally reluctantly coming down swinging the bat to give them darshan.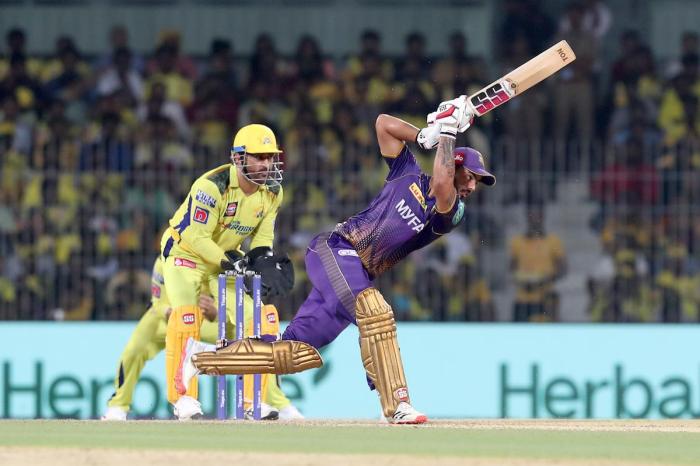 It is not the request of the visionary fans that Dhoni should come down to stand on the field for at least 5 overs during the play-offs, but the desire of the real fans. It remains to be seen whether Dhoni will accomplish this.
Kolkata's win has only slightly opened the door to a play-off for Mumbai Indians. If Lucknow Supergiants win the last 2 matches at a good run rate, it will be difficult for CSK to finish in the top two. So to maintain CSK's run rate, skipper Dhoni will have to swing his bat with ease in the remaining match. So it would be a demand of true cricket fans that Dhoni should think about dropping himself in front.