Relationships for romantic marriage, men can be an obstacle. What to do if sometimes naturally obstructed. But, one to break down all barriers Romantic couple Married.
Due to the heavy rains in Kerala, the floodwaters engulfed the temple, making it impossible for the couple to get married. But, go into the temple using the cooking utensil as a boat Romantic couple They are married and in trouble ..
Aishwarya and Akash got married after breaking the barriers. In which Aishwarya, அம்பலப்புழா From the city. Akash hails from Thakazhi. Both of them are working as medical health workers in Medical Chengannur.
Love blossomed during the Corona period when the two fought together against the Corona and helped each other.
Aishwarya belongs to the upper caste. Aishwarya was not allowed at home to marry Akash. However, despite opposition, the couple prepared for marriage.
They decided to get married on the 18th (yesterday) at the Talawadi Pannayurkavu temple in Alappuzha district. However, despite the opposition of the family, the couple got married on the 5th of last month, but the couple wanted to formally change the evening at the temple and tie the knot.
For this, when the marriage was booked at the temples in Akash's hometown of Thakazhi, it was said that all the temples there had already been booked for the next 15 days.
Following this, Akash and Aishwarya decided to get married at the Pannayurkavu temple in Talawadi. Only friends and close relatives were invited to the wedding, which was scheduled to take place on a small scale.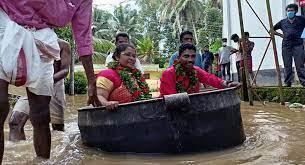 However, it has been raining in Kerala for the last 3 days. Thus many houses, cities, are surrounded by flood waters.
Aishwarya and Akash did not escape the rain at the Talawadi Pannayurkavu temple where they were getting married. The temple was flooded and no one could enter the temple. Following this, on behalf of the temple administration, Akash informed Aishwarya on her cell phone and instructed her to keep the wedding on another day and the situation was explained.
But, Akash and Aishwarya did not agree to get married on another day. We were coming to the temple somehow on the appointed day and begged to be married. Following this, the bridegroom Akash and the bride Aishwarya were brought to the temple by boat using a large aluminum utensil used for cooking on behalf of the temple.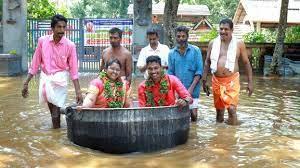 The bride and groom came to the temple using the aluminum pan as a boat and sat on it. The two were formally married in the evening in the hall inside the temple.
The couple's marriage has gone viral in Kerala, breaking down the barriers to romantic marriage and the natural barrier.
.