The Opel Rocks-e is the Netherlands' cheapest electric car. What can you do with it, and who is this two-seater intended for? A day of steering in Amsterdam makes a lot clear.
A little electric car can easily travel about 300 kilometers on a full battery. Opel is now launching the Rocks-e, which can cover about 75 kilometers on a full battery. This makes it immediately clear that you do not purchase this electric Opel if your daily mobility needs take place throughout the Netherlands.
The Rocks-e is an urban mobile: no more, and certainly no less. With its length of 2.41 meters, it is much easier to find a parking space than with a conventional car. The city trolley is made according to the same concept as the Citroën Ami, and can compete with the Biro, which is particularly popular in Amsterdam. But the Biro is only 1.74 meters long, so you can easily park it in a transverse direction in a parking space. In this way, two Biro's can fit next to each other on an average parking space along the road.
Such 'microcars' were previously also allowed to be parked on the sidewalk. The municipality of Amsterdam, among others, has now put a stop to this. It is interesting that parking management in Amsterdam has developed a specific policy for these types of cars, provided they are fully electric. At a reduced rate of more than 200 euros per six months, you can park the 45 km/h carts in any parking space, without having to pay additional parking costs.
Parking is very easy, simply because the Rocks-e has a turning circle of just over seven metres. Turning on the road is a piece of cake. However, the Opel sends quite heavily at low speed. There is therefore no power steering. And there's even more to it, under the motto 'what isn't there doesn't have to be developed', so the price of the Rocks-e is low. The basic version costs €8499. For the pizza deliverers among us, Opel offers a Rocks-e Kargo. In that version, the passenger seat is missing. A plastic box has been mounted in its place in which all kinds of things can be stored. The price of the Kargo is €7399 excluding VAT.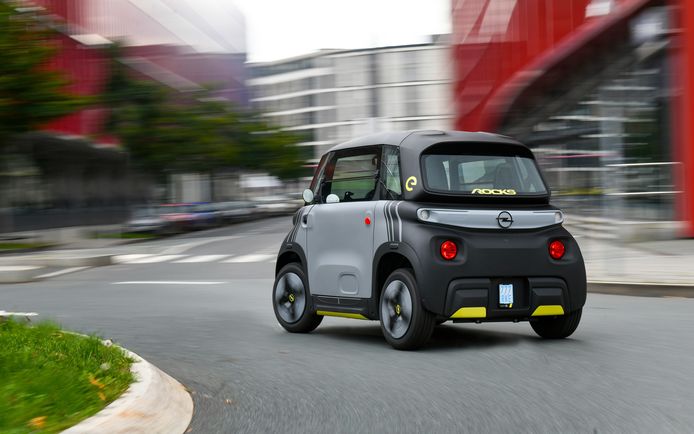 The Rocks-e lacks things that are common in a real car. There are no airbags in the Rocks-e, nor an ABS braking system or a stability system. You can fold the side windows manually, in the same way as with a Citroën 2CV. There is a USB port, but this is not USB-C. A tailgate is missing. Luggage can be stored on or in front of the driver's seat, or in a compact space behind the two seats. You will also search in vain for a rear-view mirror in the Rocks-e. If you want to know what's going on behind you, just turn your head. Optionally, Opel supplies a JBL speaker, which fits exactly in a recess made for this purpose on the dashboard. The music you can play on it must come from your phone.
You sit in the Opel not worldly on the seats, something that is always the case in microcars. There is simply not enough space in such means of transport to install fully-fledged car seats. Mitigating circumstance: You won't be taking long rides in the Rocks-e. In addition, Opel sees the two-seater as an alternative to public transport, where you do not take full-fledged car seats.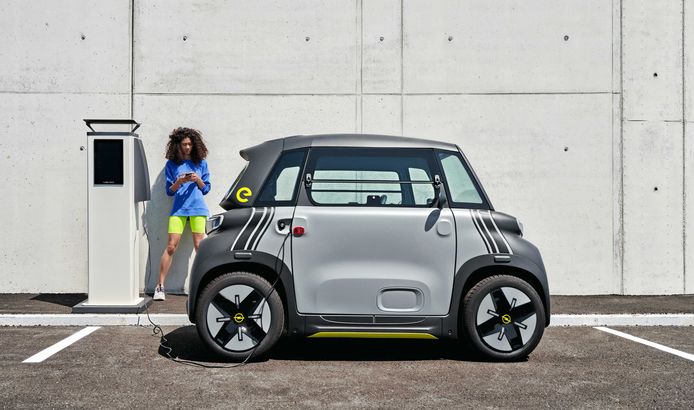 With its 5.5 kWh battery you can travel about 75 kilometers. During the ride through Amsterdam, the digital range meter went down proportionally as the odometer went up. It therefore seems that the specified value for the Rocks-e is very realistic. Although the Opel is fairly hard suspension, there is soon a smile on your face when you are on the road. That may also have something to do with the amount of views we scored. It seems like everyone thinks the Rocks-e is a funny little car. If you drive it through the PC Hooftstraat, you will certainly score more sympathy than in the average SUV.
Its top speed is set at 45 km/h, the legal limit that applies to be allowed to go through life as a microcar. The AM driving license is required to be allowed to drive in the Rocks-e, and this is possible from the age of 16. If you have a driving license B (car), you can of course also drive the Opel.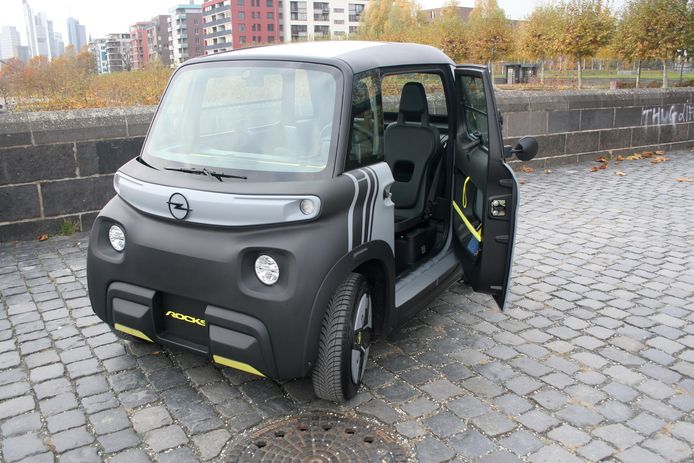 Both Citroën (Ami) and Opel now supply a comparable electric means of transport for city trips in some countries. Because Opel is a more popular brand than Citroën in the Netherlands, the management of the Stellantis group, which includes Citroën, Opel, Peugeot, Alfa Romeo and Fiat, has decided to give the Rocks-e the exclusive right here. The Ami is for sale in France. Fiat will also supply the microcar, most likely under the historic name Topolino. The Topolino will probably not come to the Netherlands. But the trolley under the Fiat label may well do well in busy Italian cities such as Rome, Turin and Milan.
The Rocks-e comes into its own in urban areas, with its compact dimensions, maneuverability and hip character. Due to its low top speed and limited driving range, it is a real microcar. But a microcar can also be an alternative to a full-fledged car, as long as you don't have to leave the city with it. Today, 3.3 billion people worldwide live in urbanized areas, and about 180,000 are added every day. As a result, the demand for compact, economical and emission-free mobility continues to increase. In that regard, Opel is cleverly keeping up with the zeitgeist with the introduction of the Rocks-e.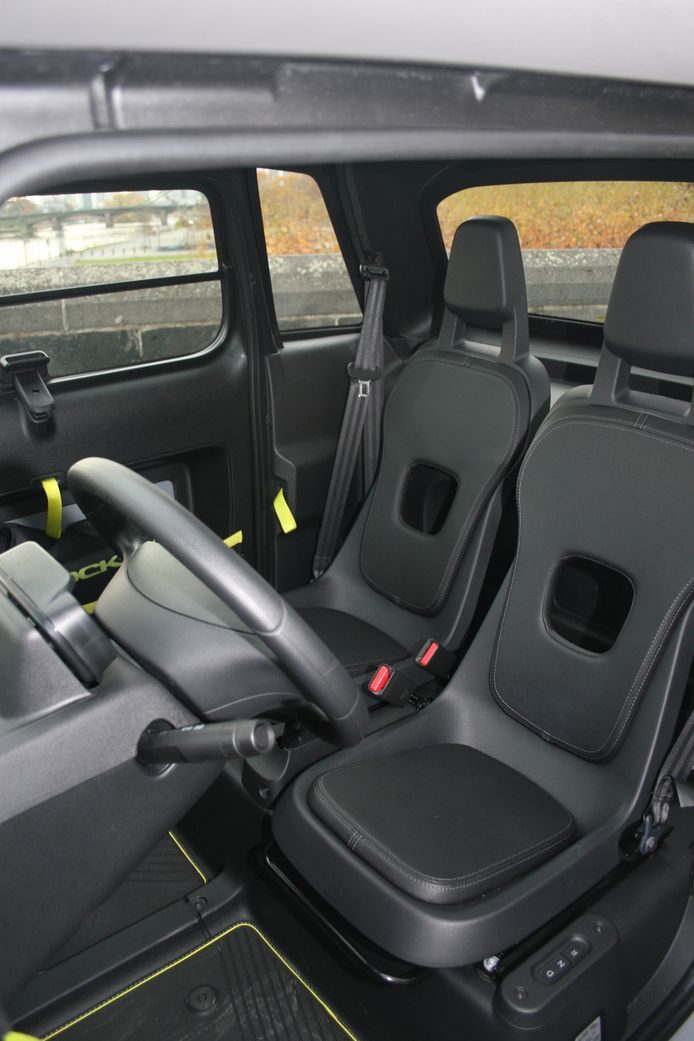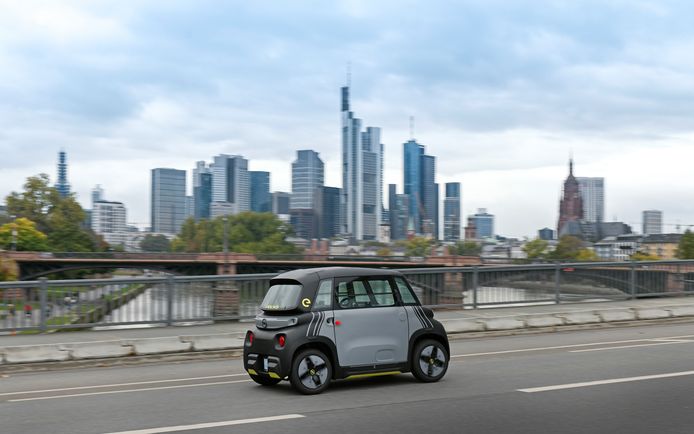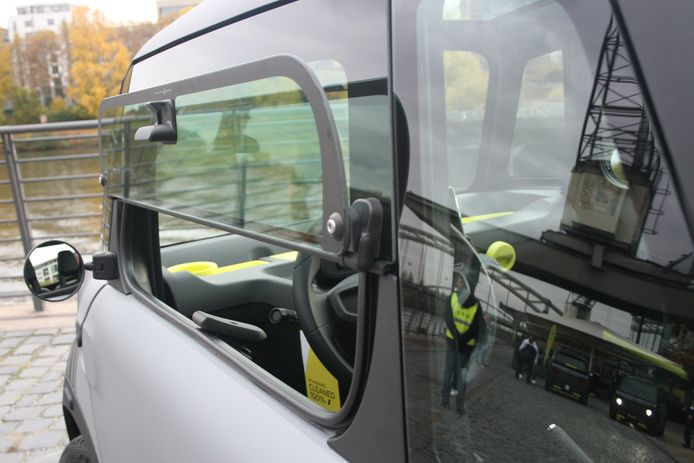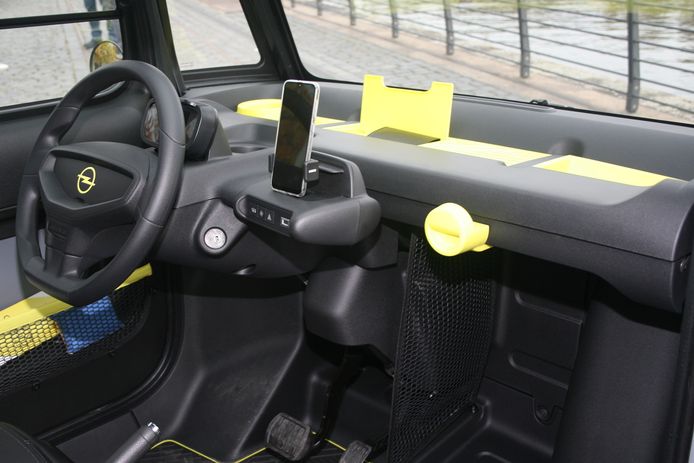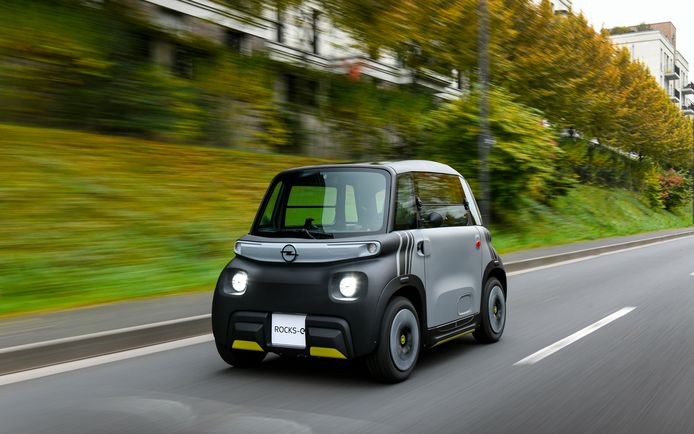 Watch our automotive and mobility videos below:
Free unlimited access to Showbytes? Which can!
Log in or create an account and never miss a thing from the stars.

Yes, I want free unlimited access