Last Updated : 24 Jul, 2022 06:36 AM
Published : 24 Jul 2022 06:36 AM
Last Updated : 24 Jul 2022 06:36 AM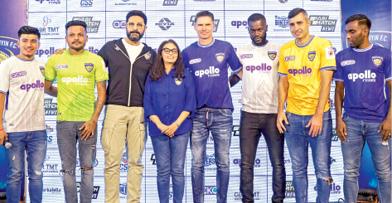 Chennai: The two-time champions of the ISL football series Chennaiyin FC (CFC) unveiled the uniform for this season yesterday in Chennai.
Coach Thomas Frederick, Captain Anirudh Thapa and teammates Raffaele Grivellaro, Falo Diagne, Romero Jesuraj, Debjit Majumdar appeared on stage with uniforms made in 3 different colors – blue, white and yellow.
Team owners Vidhani and Abhishek Bachchan participated in the event. Captain Anirudh Thapa says, "We are looking forward to playing in front of Chennai fans this season after two years. We are training hard. Last season was not good for us. We are hopeful that we will advance to the final this time," he said.