The league competition around the different countries of the world witnessed the return of a champion who had been absent for several years to the podium, which also happened in the Saudi Professional League after the crowning of the Jeddah Federation.
Al-Ittihad Jeddah won the championship, which has been absent from its coffers since the 2008-2009 season, after its victory over Al-Fayhaa with three unanswered goals in the match that was held in the 29th round of the Saudi Professional League "Roshan" at Al-Majmaa Sports City Stadium, on Saturday evening.
Asfar Al-Gharbia has been absent from the record of championship winners for 14 years, specifically since the first seasons of the Professional League.
In Spain, Barcelona won the league championship after an absence of 4 years, as it won its last championship in the 2018-2019 season, and the situation is not much different with neighboring Portugal, after Benfica regained the shield again after two coronations for Porto and another for Sporting Lisbon in the league.
And the Italian Napoli is the one with the largest absence from the league championship in the old European continent by 33 years, and the Nigerian duo Victor Osimhen and the Georgian Kvaratskhelia ended a periodic fast since the era of Argentine legend Diego Armando Maradona, who gave Napoli his last title in the early nineties of the last century.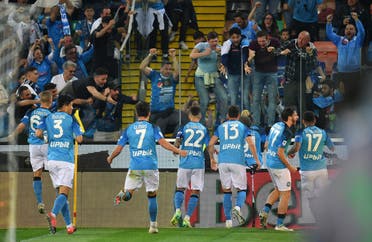 And heading north to the Dutch city of Rotterdam, her team Feyenoord succeeded in winning the "Erdivisi" after an absence of 6 years, specifically since the 2016-2017 season.
On the Arab level, Al-Ahly youth of the Emirates became champions of the local competition after 7 years of attempts since the 2015-2016 season, and in Bahrain Al-Khalidiya Club won the league for the first time in its history in its third season since its inception.