Victor Belmondo considers Russia a country of great culture and knows Russian film classics quite well. He admits that as a child he wept while watching the film The Professional, in which the hero played by his grandfather Jean-Paul Belmondo is murdered.. And when possible, he gets behind the wheel of a racing car, like his father, racing driver Paul Belmondo. The actor told Izvestia about this, as well as about life in the world of cinema, filming during covid and playing without brakes, on the eve of the release of the film 9 Reasons to Live, directed by Christophe Barratier, in which he played one of the main roles.
"We need this film like an anti-COVID mask"
— The film tells a touching story of friendship between a seriously ill boy Marcus and your hero, a young slacker Thomas. Why, after your film, the audience, judging by their reviews, wants to do something good in life?
– Really, "9 Reasons to Live" touches the audience very much, evokes positive emotions, encourages to be better, kinder, to help your neighborwho is in trouble, reminds of forgotten values, which are especially important in these times of crisis. We need this film today just like the anti-covid mask FFP 2 (laughs).
– In the film, you are surprisingly organic and natural in the role of Thomas – as if you are not acting, but remain yourself.
– I strive not to portray, but to live the life of my character. To do this, I try to understand it as best as possible. I seem to get it right sometimes.
"Viktor Belmondo has proven that he can play leading roles today," the Parisien newspaper wrote after your latest films, 9 Reasons to Live and Albatross.
– Really, last year I starred in three tapes, although not always in the lead roleswho taught me a lot. I am interested in all the roles – large and fleeting. I work patiently and I think that my perseverance and obsession is gradually bearing fruit.
Frame from the film "9 Reasons to Live"
Photo: Chapter 2
You are currently filming the 2019 fire series Notre Dame on Fire, which director Herve Admar is filming for Netflix. Does he see this catastrophe as a harbinger of the coming collapse of our civilization?
— The director has a metaphysical approach to this film. For him, the fire of Notre Dame is a symbol of a society that is threatened with destruction. I have a small role in the tape, but I do not share his pessimistic outlook.
— What worries you the most in the COVID-19 era?
— Our team was very upset when the filming of the film "9 Reasons to Live" had to be suspended for some time due to the pandemic. It is impossible to take lightly what is happening in the world right now. The situation is extremely serious, we do not know what awaits us ahead. However, it is impossible to be in constant fear. It means that we are destined to live in such an era. We have no other choice – we will have to coexist with covid, fight it and at the same time not despair, do not forget about the bright sides of life.
"He was surrounded by friends, but he had no idols"
Of course, you are pestered with questions about your grandfather, Jean-Paul Belmondo, who passed away last September. At the farewell ceremony, you called him the inextinguishable sun. Did he help you become an actor?
I have long been accustomed to such questions. How else?! Jean-Paul was a positive, open, friendly, cheerful person. Always smiling. I was easy with him. We had the most ordinary conversations that grandfather and grandson have, more about life than about cinema. He usually praised me, encouraged me, did not impose anything, did not give instructions. Jean-Paul did not like to talk about working on a role, did not arrange master classes, did not theorize, did not set grandiose tasks for me.
For him, cinema remained nothing more than a game, entertainment. He was always surrounded by friends, but he had no idols. Grandfather believed that I myself had to choose the path, make decisions, make mistakes, believe in myself and move on. This is exactly what I strive for – I want to reach everything myself.
Jean-Paul Belmondo with his relatives
Photo: Getty Images/Bertrand Rindoff Petroff
– The surname Belmondo helps to make a career or, on the contrary, interferes for the reason that it is impossible to compare with the illustrious ancestor?
I don't ask these questions. I grew up in the world of cinema. With the surname Belmondo lived for 28 years and with its help he never tried to open any doors. I work, I shoot, I rejoice in successes, I experience failures. Truth, I am so often told how much I look like my grandfather that, willy-nilly, I begin to believe in it (laughs). I have long been accustomed to being compared, that they expect a lot from me., but I try not to think about it and, of course, I don't try to imitate him – that would be stupid.
"Patrick Dever played without brakes"
– Who then serves as a role model for you in the cinema?
— Patrick Dever with his incredible temperament and bare nerves, he performed each role with such dedication, as if it were his last (the actor committed suicide in 1982 at the age of 35. – Izvestia). In this respect, he is completely unique. His reckless game, like in a rally without brakes, sometimes frightened and fascinated. You rarely see this in French actors.
Is there any competition in French cinema among young talents?
– I do not think. At least I don't look at other actors as my competitors or rivals. We are united by a common cause to which we are devoted, mutual solidarity, a kind of cinematic brotherhood. Maybe I seem to be a very naive person, but we play as a single football team, in which everyone has their own role, and our goal is to win.
– Do you keep in touch with Yoann Eloundu, who played the role of a sick boy in the film wonderfully?
"Now he is like a younger brother to me, we are in constant contact with him. Joann knows that he can rely on me under all circumstances. I am also friends with his mother and sister – we have become one family.
Frame from the film "9 Reasons to Live"
Photo: Chapter 2
– You are not only an actor, but also a screenwriter. Does it help you get into the role?
— I graduated from the screenwriting department of the Higher Film School in Paris, but so far I cannot consider myself a great specialist. This craft helps a lot to better understand the staging business, to understand the complex mechanics of the film process.. I wrote the first script for the feature, it's waiting in the wings.
What films do you prefer to act in – comedies, dramas, thrillers, fantasy, action?
– I love all genres – from the author's to those designed for the widest audience. So far, I am less familiar with action films, but I want to try myself in them. I go to the cinema at least five times a week and watch almost all new tapes. Of course, at home I have a complete collection of 80 Jean-Paul films, but I confess that there are a few left that I have not watched yet. I remember how as a child I sobbed at the viewing of "Professional", in which my grandfather dies. Decided that he was actually killed. My favorite film of his is "A Monkey in Winter" (directed by Henri Verneuil, Jean Gabin is also involved in the film. – Izvestia), which tells about friendship and loneliness.
– Your father Paul was not only a famous race car driver, but also played in the Parisian theater "Nuvote" in the comedy "One pillow … or three?" together with Delphine Depardieu, the niece of the great actor. In an interview with Izvestia, Paul Belmondo said that his three sons are more Italian than French, more open and relaxed.
— We have a lot of Italian ease and spontaneity. This is understandable – grandfather Jean-Paul has Italian roots, and my mother Luana is Italian, who, once in Paris, barely spoke French. I don't know about my brothers, but I still feel equally French and Italian. Born and raised in France, received a French education. By the way, my parents taught their children modesty, which is not very much in demand today.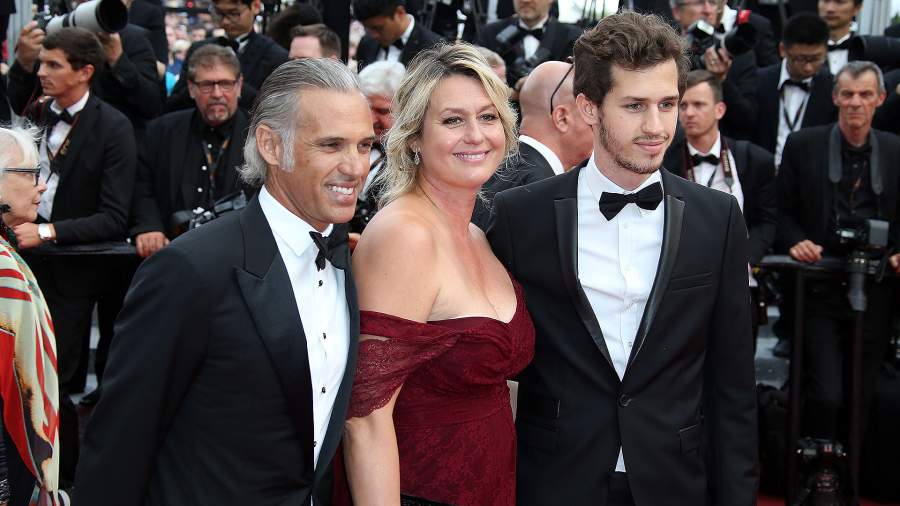 Victor Belmondo with his mother Luana and father Paul Belmondo
Photo: Getty Images/Laurent Viteur
— Do you like Italian cinema?
— Dolce Vita by Fellini is one of my favorite films and I would like to play with an Italian director like Paolo Sorrentino. I spend a lot of time in Italy and I think that one day there will be a role for me too.
"I would fly to Russia with joy"
"On the set, I always have fun to the fullest," Jean-Paul Belmondo, who never took himself or cinema seriously, told Izvestia.
"We are lucky to be engaged in such a craft, but at the same time, there is a lot of random, unpredictable things in our profession. You never know what tomorrow holds for you. You can be unemployed for a long time.
– "It's time to return to the stage, because only in the theater you can find roles with a real text," Jean-Paul Belmondo also told our newspaper about this. He even bought the Variety Theater in Paris, where he performed. Would you like to try yourself on stage?
— I have already performed in the theater and experienced an incomparable buzz. Dreaming of playing again but only in a really interesting play, and not in order to light up and amuse your ego.
– Are you into boxing like your grandfather and race cars like your father?
– I do a little boxing, but with less passion than Jean-Paul. I don't have a sports car, I prefer a motorcycle. But when possible, I sit behind the wheel of a racing car. Sports keep me in good shape – I run crosses, pump muscles, play football.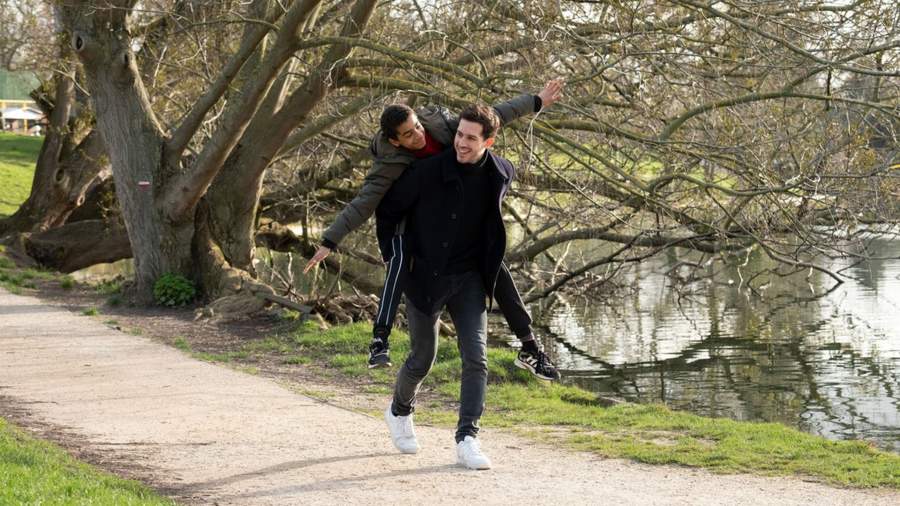 Frame from the film "9 Reasons to Live"
Photo: Chapter 2
– Do new roles come by themselves or do you have to fight for them?
– An actor cannot depend only on offers and live in anticipation of a call from a producer, director or agent. I have many trials, which are not always successful. I have not yet reached such a level as to select from the stream of proposals only those that I like. When I am chosen for a role in a movie, I cry with happiness.
— Your film will be released on Russian screens on January 20th. Didn't make it to the premiere?
— If I were invited, I would fly with joy. One way or another, it's great that the film will go to Russia – a country of great culture, which has its own wonderful cinematography. I know Russian film classics quite well, but modern cinema is much worse.