New Delhi: The Congress party officially announced today (Thursday) that Siddaramaiah will take over as the next Chief Minister of Karnataka, while DK Sivakumar will continue as Deputy Chief Minister and State Congress President.
Congress General Secretary KC Venugopal said, "Siddaramaiah has been appointed as the Chief Minister of Karnataka. DK Sivakumar will be the only Deputy Chief Minister and Sivakumar will continue as the Karnataka State Congress President till the end of the Lok Sabha elections. The Chief Minister, Deputy Chief Minister and Ministers will assume office on May 20 (Saturday). .We invite like-minded parties to participate in this swearing-in ceremony," he said.
When asked about the rotational devolution between Siddaramaiah and TK Sivakumar, he replied, "The rotational devolution will be with the people of Karnataka."
Meanwhile, Karnataka Superintendent Randeep Surjwala said that both Siddaramaiah and TK Sivakumar are qualified to be Chief Minister.
The result of the five-day tug-of-war: The Congress party's announcement has ended the 5-day-long tug-of-war over who will be the next Chief Minister of Karnataka. Earlier, the Congress party had won the legislative assembly elections held on May 10 with a single majority. Despite this, the contest for the post of Chief Minister between former Chief Minister Siddaramaiah and State Congress President TK Sivakumar was open and the selection of the next Chief Minister continued to drag on.
In a meeting of party MLAs held in Bengaluru last Sunday, a single resolution was passed handing over the responsibility of electing the chief minister to the party's national president Kharge. After three days of negotiations, the decision was reached today (Thursday).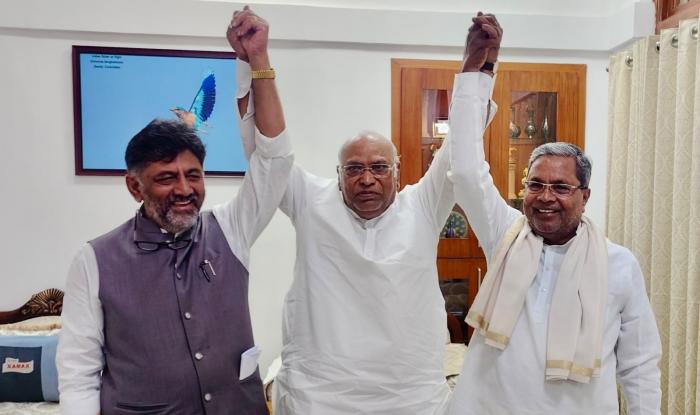 6.5 5 Promises for Kannadas: Meanwhile, Congress President Mallikarjuna Kharge said in his Twitter post, "The Congress Party is committed to bring progress, development and benefits to the lives of the people of Karnataka. We will definitely fulfill the 5 promises we made to 6.5 crore Kannadigas."