Published: 10 Jan 2022 06:41 am
Updated: 10 Jan 2022 06:41 am
Published: 10 Jan 2022 06:41 AM
Last Updated: 10 Jan 2022 06:41 AM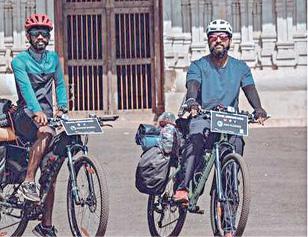 Kochi: Touring across the country by bicycle Kerala Youth Will create record.
Aswin Manoj hails from the dark part of Kannur district in the state of Kerala. Ashikreji hails from the Pambakkuda area in the Pravam area. The two met 8 years ago at GV Raja Sports School and became friends. Both are 21 years old. Ashiq Reji is an athlete. Aswin Manoj is a football player. Both Nationwide Decided to tour by bicycle.
Accordingly, the locals started their cycling journey in Pambakuda. They will be cycling around India for the next one and a half years.
Commenting on this, Ashiq Reji said, "We have embarked on this journey with confidence in the compassionate public. Because, on the way, the public fed us and arranged for us to stay the night.
I have been posting information related to Travel and Travel Guide on YouTube. With the money we got, we bought the bicycles and tents I needed. I'm going to post videos related to daily travel. "
Aswin Manoj says, "I work at Kerala House in Delhi. It is safe to cycle during a coronavirus Pandemic. We hope to find a way to cycle in the area where there is a general freeze. "
.