The government has announced that it is allocating two acres of land for the construction of a memorial in the name of rebel star Krishnam Raju. To this extent, the state ministers and public representatives participated in the commemoration meeting organized at Krishna Raj's residence.
AP Civil Supplies Minister Karumuru Nageswara Rao said that the people of Telugu states were shocked by the death of popular film actor, former MP and rebel star Krishnam Raju. It has been revealed that the state government will allot two acres of land for the establishment of a memorial in the name of Krishna Raju. Karumuri Nageswara Rao along with State Ministers RK Roja, Venugopalakrishna and Chief Whip Prasadaraju attended the memorial service organized at Krishna Raju's residence in Mogaltur, West Godavari district.

Speaking on this occasion, Minister Nageswara Rao said that the death of rebel star Krishnam Raju, who excelled in the fields of cinema and politics, is a great loss. Krishnamraj's family members were also informed about the establishment of the memorial.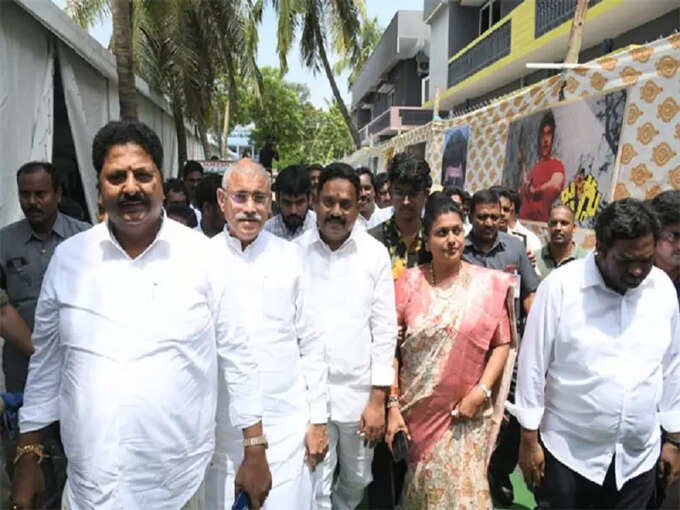 Palakollu Telugu Desam Party MLA Nimmala Ramanaidu said that Rebelstar's death is a great loss. He has earned a stable place in people's hearts. As a two-time member of the Lok Sabha, he has made his mark in politics as well. He said that Krishnamraju made his own mark in politics without the slightest stain of corruption. Development funds have been given to every village. Popular hero Prabhas, younger son of Krishnamraj, came to this memorial meeting. Also Krishnamraj and Prabhas fans gathered in large numbers. Due to this, there is a buzzing atmosphere in the entire Mogalthur region.
Next story
It is true that CM Jagan has said that strongly.. Minister Botsa Clarity
Telugu News App: Download Telugu Samaam App for AP, Telangana Latest Updates, National, International, Education, Business, Cinema, Spiritual, Sports, Viral Stories.