State of Uttar Pradesh Lakhimpur violence The Supreme Court is set to hear the case voluntarily.
A bench headed by Chief Justice NV Ramana will hear the case tomorrow. The session will feature judges Surya Kant and Hima Goli. The Supreme Court is set to hear the case on its own, as the police's reluctance to investigate the Uttar Pradesh incident has sent shockwaves across the country.
Lucknow incident: From then till today:
Last Sunday morning, October 3, the Deputy Chief Minister and Union Minister were scheduled to attend a function in Lakhimpur district of Uttar Pradesh. Farmers gathered in the village of Gary to show the black flag to the father and son who were coming to the event. The car allegedly belonging to the minister's son then crashed into the farmers. Of these, 4 farmers were crushed to death. The BJP, which initially claimed the car had overturned, has refrained from talking about it since it posted footage of the Congress loading car on Twitter.
On the night of October 3, Congress general secretary Priyanka Gandhi set out for Lakhimpur. However, he was detained by the police. A video was also released showing police engaging in indecent acts such as grabbing his hand and forcibly pulling him into a car. Priyanka Gandhi was detained at a government hostel in Sitapur. He was remanded in custody for more than 36 hours.
The Chhattisgarh Chief Minister, who was on his way to Lakhimpur, was stopped at the airport and sent back. Former Uttar Pradesh Chief Minister Akhilesh Yadav was detained at his home.
Mayawati, the leader of the Bahujan Samaj Party, has called for a judicial inquiry into the incident.
Tamil Nadu Chief Minister Stalin and Vizika leader Thol. Thirumavalavan have also strongly condemned the Lakkimpur incident.
Home Minister Ajay Mishra has denied any involvement in the incident, saying his son Ashish Mishra was still involved in the incident. Today, Ajay Mishra met Home Minister Amit Shah in Delhi.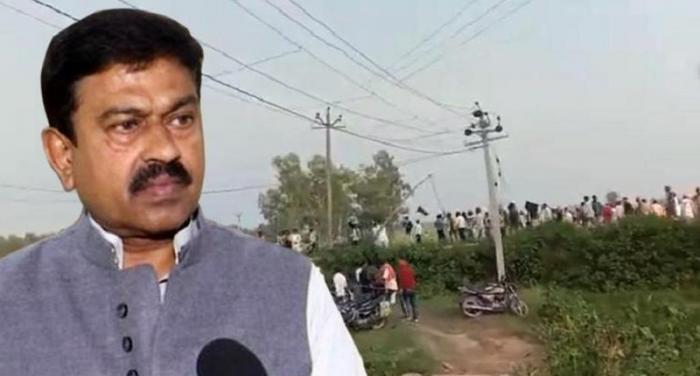 Ajay Misra
The manner in which the police are handling the incident in which 4 farmers, 4 civilians and 9 journalists were killed has caused great dissatisfaction across the country.
It is in this context that the Supreme Court of Uttar Pradesh is going to hold a voluntary inquiry into the Lakhimpur incident. A bench headed by Chief Justice NV Ramana will hear the case tomorrow.
Meanwhile, Priyanka Gandhi, who has been in custody for 2 days, visited the families of farmers affected by the Lakhimpur violence and expressed her condolences.
.