The leader of the National Resistance Front in Afghanistan, Ahmed Masoud, affirmed that he does not recognize the rule of the Taliban, "because the movement did nothing to improve living conditions, and did not gain legitimacy from the people to consolidate stability in the country."
In an exclusive interview with Al-Arabiya channel, Masoud stated that he did not participate in the previous governments in Afghanistan and did not participate in wars against the Taliban before its return to power again, and he hoped that "the movement would form an inclusive government that includes all sects in order to establish a new Afghanistan, but That did not happen."
Members of the Afghan resistance in Panjshir last September
Ahmed Masoud criticized the Taliban's "monopolization" of power and its establishment of a regime he described as "oppressive", and its refusal to share with any other party. He added, "The Taliban also refused to engage Muslim mediators from outside the country to look into the existing differences between Afghans and help resolve them."
Concerning the activities of the resistance, the commander of the National Resistance Front in Afghanistan said: "We are in a position to defend ourselves, and we work from the inside and outside. The Taliban was surprised by how the resistance continued to operate in the mountains despite the passage of a harsh winter."
He stressed that this resistance "has grown in strength and is spreading in a number of provinces and is working to achieve two goals: forming an Islamic government and living in peace."
Regarding the parties supporting the Afghan forces, Ahmed Masoud stressed that they are "only internal to the people who believe in human rights, especially women's rights."
In this context, he pointed out that "girls do not have the right to go to schools and people of different ethnicities do not live in peace and freedom, with the increase in repression."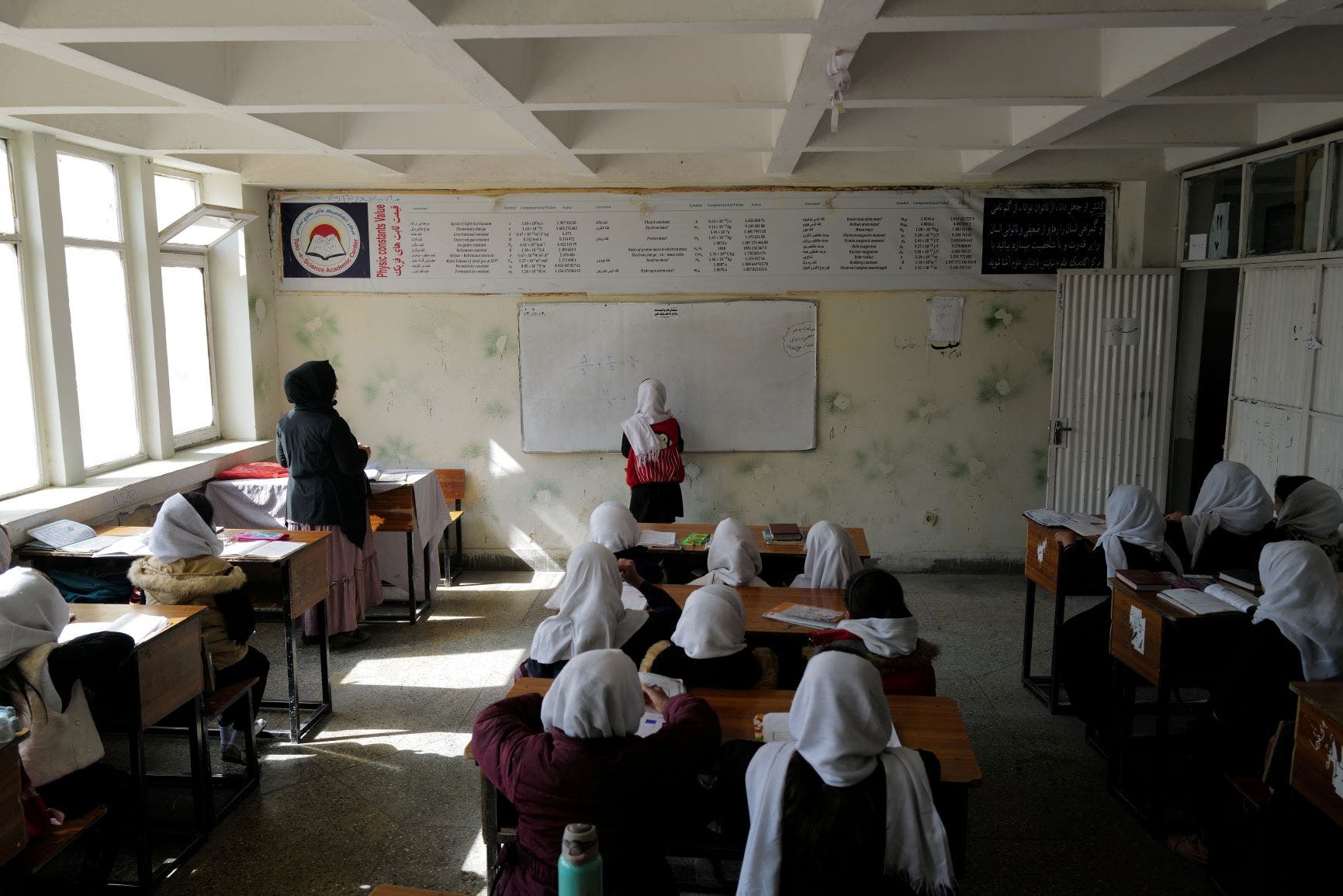 Female students at a school in Kabul last October
Ahmed Masoud noted "the image presented by Saudi Arabia and the Emirates of moderate, tolerant and renewable Islam in the face of extremist groups that present a bad image of Islam by beheading and depriving females of the right to education," as he put it.
Massoud referred to the "failure of the educational system" in Afghanistan after a large number of teachers and those responsible for educational institutions emigrated.
He also saw that "the instability in the country extends to the Taliban itself, as the differences have moved within its ranks, in addition to the existence of differences between the movement and other groups. The chaos in Afghanistan has turned the country into a haven for terrorists."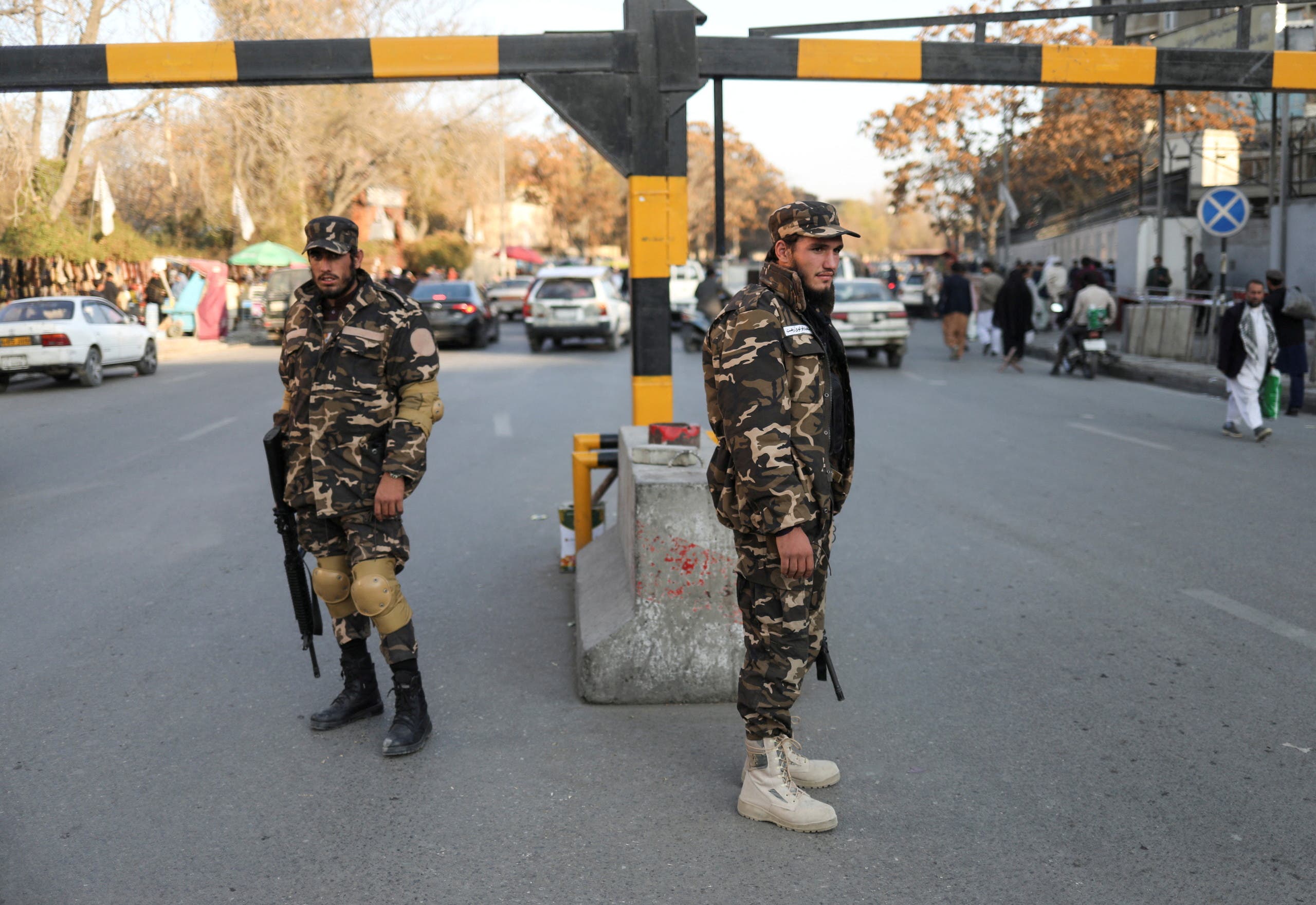 Taliban elements in Kabul last November
As the commander of the National Resistance Front in Afghanistan said, "A year after the Taliban returned to power, the movement realized that the state needs more than fighting to liberate and lead it. It is easy to control a state, but it is difficult to govern it, because the regime derives its legitimacy from the people and not from the people." gun barrels.
He also referred to violations of human rights in Afghanistan, especially freedom of expression, and the implementation of death sentences without fair trials.
Ahmed Masoud concluded that he does not want war, but that it is "the only option available to him" at the moment, pointing out that the corruption of the Taliban government during nine months of rule has exceeded the corruption of previous governments that successively over 20 years, and that the poor are the ones who pay the consequences of this corruption more than during price hikes.