A 'coup de foudre' is what Paris felt with the parade of the Loewe's new collection for men next Spring/Summer 2024. Or what is the same, that love at first sight that is like a summer storm that impacts you and you never forget. But all this on a radiant morning in Paris, sunny and that is closer to the temperatures we are used to in Spain. But, 'oh, là là, Paris'. Six months seems like forever, until Fashion Week rolls around faster than that famous summer storm. Paris Fashion Week is the last of the fashion tour, what has made it clear to us is that the men's fashion shows generate almost as much expectation as the women's, and firms such as Loewe have shown this with the staging and the madness they have generated in the streets of Paris.
And as usual, Loewe taking care of every detail of their shows in Paris. On this hot Saturday in June they have moved to the Boulevard Henri IV, in the 4th arrondissement of the city, to make their proposals to dress men next spring summer shine among green. A study in perspective. How points of view define perceptions and scales, and how perceptions and scales draw silhouettes. Dwarfed by Lynda Benglis's gigantic water fountains, attendees gaze up and down the catwalk from a wide angle, captivated by a certain grandeur. "Reinventing Craft and Leather" is one of the show's mottos. brand Loewe, a motto that consolidates through its fashion shows.
Blazers, coats, shiny shirts, knitted polo shirts, twin-sets, diamond knits, leather overalls, jeans and chinos are what make up the collection. But within the basic garments to which you are not accustomed loewe, have gone a step further, with shiny fabrics for both shirts, sweaters, pants and blazers. Also in the accessories that have been covered by crystals, both in sunglasses, maxi bags for men so characteristic of the firm, even in the shoes that gave off flashes of light in the equestrian arena of 'La Garde Republicaine' in Paris. At the doors horses, at the entrance, all fashion. In the power of the unexpected, shoes that become pants, giant fabric tops with included pins and the man's back exposed. Because everything is possible in this loewe's collection as if it were a bolt from the 'coup de foudre'. A palette of soft pastels and solid blues, blacks, khakis. Round toe Chelsea boots and sandals, ballet flats.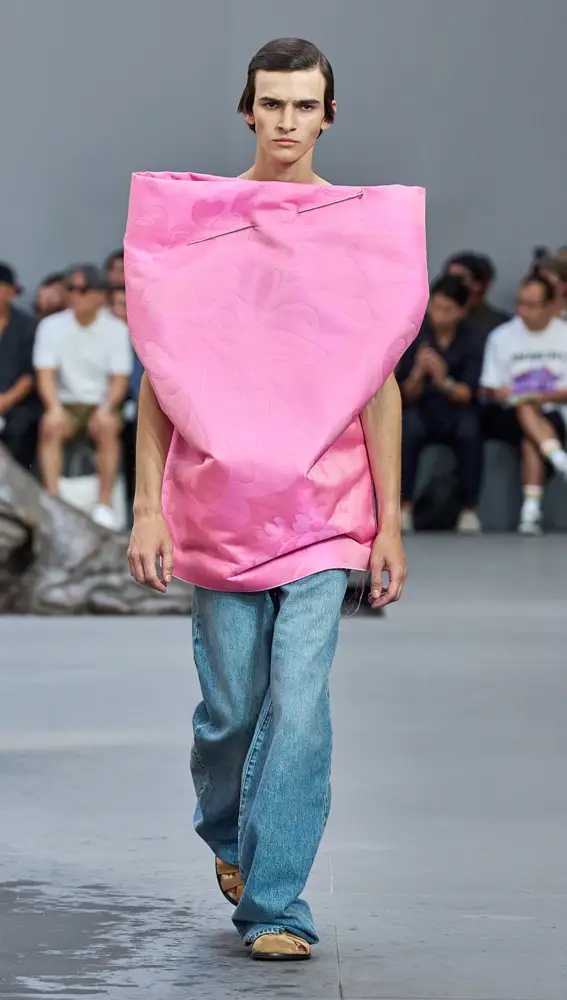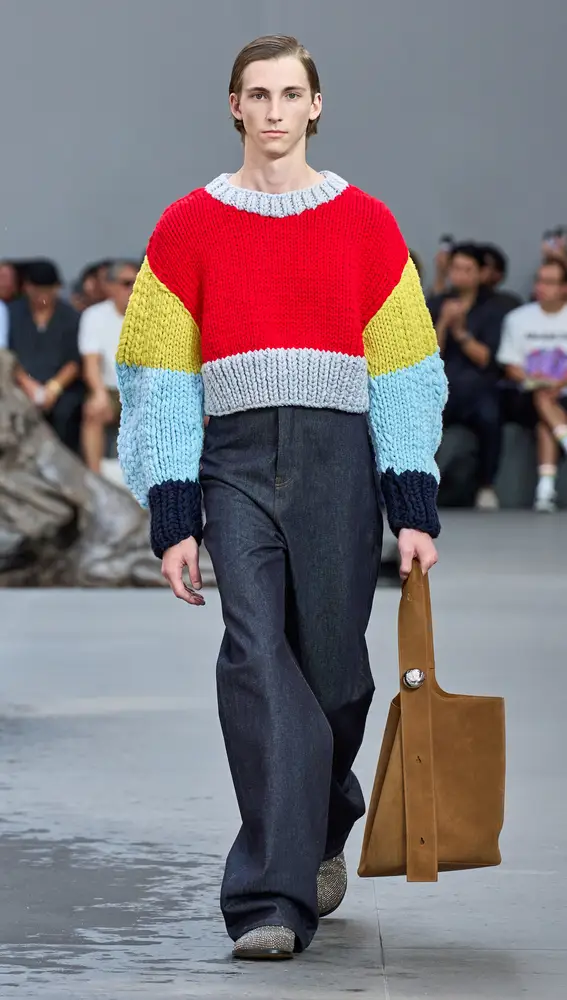 But not only has the new collection of the firm shone with flashes of its own light, but also its assistants. Loewe appointed the k-pop star, Taeyong, as the brand's new ambassador a few days ago. And that has been noticed in the streets of Paris, with the madness of hundreds of teenagers waiting for him since Friday at his hotel and also at the gates of the parade.
But not only him, also the fiancé of our dear RosalíaRauw Alejandro, Spanish actor Martino Rivas or the stars of 'Elite', Manu Ríos and Arón Piper, that have become a fixture of all front row of the Paris Fashion Week. À bientôt Paris, ça a été un plaisir