Strong declarations. This April 17, Magaly Medina revealed the recent conversation between Paolo Hurtado and his still wife, Rosa Fuentes, in which the footballer threatened her. "Let the war begin, may the best man win," said the soccer player. "He is afraid and knows perfectly well what is coming to him," said the lawyer for the affected party, Dr. Claudia Zumaeta. However, days before, the athlete wrote to him with a different tone and asked him for help so that his image is not affected, in addition to ensuring that he only cared about his family.
In the images broadcast by "Magaly TV, the firm", Hurtado accused the mother of his children of having "stolen" his accessories before traveling to the United States. "Sell the watches and everything. Let those watches last, but we are going to war together now (…). Here I am not going to look bad, do you want to play dirty? Ok"wrote.
Magaly Medina condemned the action of the Cienciano soccer player by assuring that she does not care about the delicate situation of Fuentes, who is in the first trimester of her pregnancy and with the threat of abortion. "It takes things from the past for her, before she was with him. That's very low because when you marry someone you don't look back anymore"expressed the 'Magpie'.
Messages from Paolo Hurtado to Rosa Fuentes. Photo: ATV capture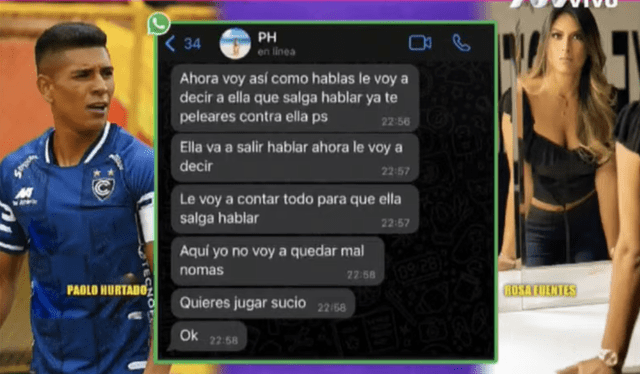 Messages from Paolo Hurtado to Rosa Fuentes. Photo: ATV capture
"Magaly TV" shows new images of Paolo Hurtado and Jossmery Toledo
The Magaly Medina program issued a report showing images of Jossmery Toledo and Paolo Hurtado enjoying themselves in Santa Eulalia last weekend. However, the new couple did not spend it alone, since the footballer's family was also invited. In the clip you can see the model sharing with the soccer player's parents, even she is not afraid to be affectionate with the aforementioned.
Paolo Hurtado does not pass a pension to his children, according to a lawyer
At another point in the program, Magaly Medina contacted Claudia Zumaeta, Rosa Fuentes' lawyer, who revealed that her client is subsisting on her own in Virginia, United States, together with her minor children, since Paolo Hurtado does not give her a pension.