In the by-elections held in Maharashtra in 22 wards in 85 district panchayats BJP Has succeeded. 144 Panchayat Committee In wards Congress The party has won 36 seats, according to the state election commission.
Following an order issued by the Supreme Court last March, the OBC has ordered the transfer of OBC seats in Tule, Nandurbar, Akola, Wasim, Nagpur, Balkar and Panchayat wards to the public sector. Accordingly, elections were held in 85 wards and 144 Panchayat Samiti wards in the 6 vacant District Panchayats.
The by-elections were held in 85 ward vacancies in 6 district panchayats and 144 ward vacancies in 37 panchayat committees in Maharashtra and the results were announced yesterday. This includes a district panchayat and 3 Panchayat Committee Independent candidates contesting in the ward were elected without contest.
Out of 85 seats in 6 District Panchayats, maximum 22 seats BJP won. Congress, NCP, Shiv Sena alliance Mahavikas Agathi Won all 46 seats.
In which Congress The NCP won 19 seats, the NCP 15 and the Shiv Sena 12 seats. The Independents won 4 seats, the Marxist Communist Party won one seat and the other parties won 12 seats.
A total of 144 seats in the by-elections held in the Panchayat Samiti Congress The party won 36 seats. BJP Nationalist in 33 seats, Shiv Sena in 23 seats Congress Won all 18 places. Independent candidates in 7 seats, Maharashtra Navnirman Seva won in one seat and other parties in 26 Panchayat Samiti.
144 Panchayat Committee In ward elections Mahavikas Agathi The coalition captured 73 seats. 367 candidates contested in the district panchayat elections and 555 candidates in the panchayat ward elections.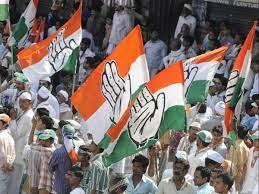 Minister of Public Works, Maharashtra; Congress Ashok Sawan, an MLA, said, "The BJP has suffered the biggest setback in the local body elections. The people have learned a lesson from the double standard in reservation for the Maratha people.
Each time the BJP gave reservation to the OBC, it took a double stand on the issue of reservation for the Maratha people. The ruling party in the middle did not make the right decision.
In 46 district panchayats Mahavikas Agathi It currently holds 46 seats. We were in 37 places before this. BJP Prior to this it was in 31 places. It has now dropped to 22. Wansid Bahujan Agadi has dropped from 12 places to 8, "he said.
.