Agartala: Tripura BJP leader and state assembly MP Manik Saha was today sworn in as the new chief minister. He jumped from the Congress to the BJP and is currently the Chief Minister.
Biplob Kumar Dev was the Chief Minister of the northeastern state of Tripura. There will be a legislative hearing early next year. In this situation there was a great deal of dissatisfaction with Biplob Kuma Dev as the controversial speech, the controversial results. Some BJP executives also recently joined the Trinamool Congress. He resigned from his post yesterday on the orders of the BJP supremo.
Following this, Manik Saha was elected as the new Chief Minister at a meeting of BJP MLAs in the capital Agartala to elect a new Chief Minister. He was sworn in as the new Chief Minister today. He was sworn in as governor. He was inaugurated at a function today at Raj Bhavan in Agartala. The event was attended by many senior BJP leaders.
BJP Tripura state president Manik Saha is currently the state MP.
The 67-year-old dental surgeon-turned-politician was elected by the BJP as the only state MP from Tripura.
Dr. Saha, a professor and head of the department at the BR Ambedkar Memorial Teaching Hospital in Tripura Medical College and Agartala, joined the BJP in 2016. He is also the President of the Tripura Cricket Association.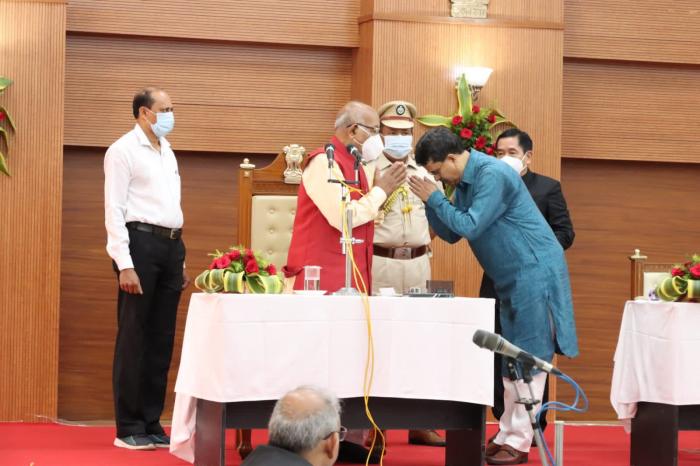 Manik Saha was the senior leader of the Congress party. He joined the BJP in 2016. He was appointed BJP state president in 2020.
In the early days of his joining the party, he was in charge of urban areas on the Booth Executive Committee in the 2018 legislative elections.
Following the BJP's landslide victory in the Assembly elections, he was given the charge of Booth Executive Committee for the 2019 Parliamentary Elections.
He is also the BJP's 2018 Member of Parliament.
.