"Take cover for civilians in the basements." With these words a resident of Mariupol spoke after the body of a Ukrainian fighter was found under the rubble of an apartment building.
Yesterday, Thursday, a local resident confirmed that Ukrainian fighters had taken shelter in civilians in basements, according to the Associated Press.
"Everywhere, at every entrance to the building, Ukrainian soldiers were present, they ran through the building and started shooting, and then went back to the basement," he added.
Find a dead body
This comes after workers found the body of what was said to be a Ukrainian soldier under the rubble of a destroyed apartment building yesterday, and Russian investigators examined it. The workers also found unexploded ordnance in the rubble.
Emergency teams from Russia and its backed separatist forces are clearing rubble in Ukraine's Mariupol, where most apartment buildings were destroyed during heavy fighting.
Meanwhile, Ukrainian fighters are still holed up in the Azovstal factory in the city center, where relatives and supporters called yesterday for new efforts to save them, while Kyiv said that new talks were underway with Moscow on a plan to rescue seriously wounded soldiers.
The last bastions of resistance
Russian forces bombed the steel factory, which is the last stronghold of the defenders in the city, which was almost completely taken over by Russia after a siege that lasted more than two months.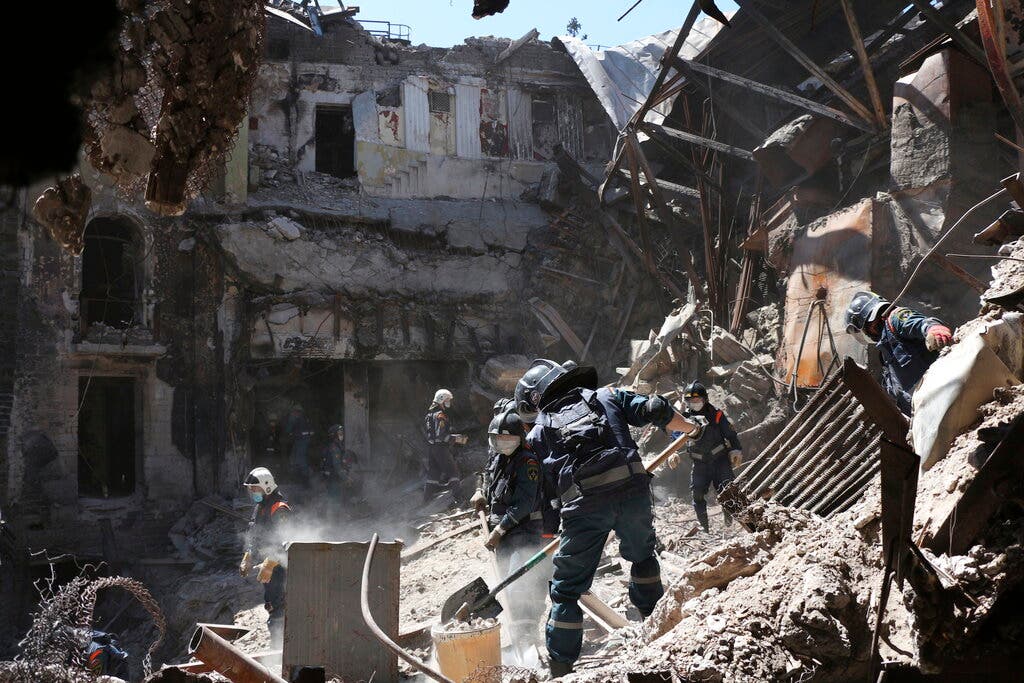 Mariupol (AP)
It is noteworthy that Mariupol, overlooking the Sea of ​​Azov, southeast of Ukraine, which is almost completely under Russian military control, with the exception of the Azovstal Industrial Complex, has represented, since the start of the Russian operation, a strategic goal for the Russians, especially since control will open a land corridor for the movement of Russian forces between eastern Ukraine and the peninsula. Crimea, which Moscow annexed in 2014.